Crafty garden ideas for your kids this summer
Longer days, sunnier skies, and ice cream. There's nothing quite like summer. The warmer weather is also the perfect opportunity to make the most of the outdoors and take on some fun garden and home projects.
Maybe you're not ready to take on a big project, but you're still keen to do fun things with the kids at home. With a promise to keep the entire family entertained and boredom at bay, we've pulled together some crafty garden ideas. They'll also provide hours of fun as you enjoy the fruits of your labour all summer long.
Grow your own
We all love to eat fresh food whenever possible. Growing your own fruit or vegetables provides the perfect solution.
The summer months offer up a chance to turn green fingered and to get experimental with the garden. There's no need to be a garden expert either. With a pack of seeds or shop-bought plants, some recycled or homemade containers, a dash of TLC and plenty of water, you're set to go. Caring for a plant is also a great way to teach the kids about responsibility.
Watching the progress of what you plant is just as fun too, from seeing the first green shoots appear, to crunching into your first home-grown carrot.
What to plant and when
We tend to know roughly when fruit and veg is available throughout the year - strawberries in summer, pumpkins in autumn. That means thinking ahead to when you need to plant certain varieties. Whether you're looking to plant a whole nursery of produce or a simple window box planter will also help you decide what to grow.
Most seedlings should begin their lives indoors in starter pots (small containers). This gives them the best growing environment and makes them strong enough to survive when being planted outdoors. Herbs are ideal if space is limited. They can sit in pots in your kitchen and can be enjoyed all year around.
It's said that seeds should be sown around two months before the last spring frost. If you're buying baby plants for your garden, this time limit doesn't apply. However, most root vegetables are best started outdoors from the get-go - think turnips and swedes.
Berries should be sowed in February (if you're starting from scratch). The likes of garlic, onions, beetroot and radishes should be planted in summer to enjoy in the autumn.
Getting started on growing your own
Ready to get gardening? See our step-by-step guides on how to grow your own mint and strawberries.
How to grow your own mint
Mint is easy to grow and will thrive almost anywhere. It can be grown indoors or out all year round and makes a great starter plant for beginners and little gardeners. The herb is the perfect accompaniment for homemade pesto, drinks, salads or chopped up and stirred through hot potatoes. Did you know, as well as freshening your breath, mint also has antibacterial and anti-inflammatory properties? Start growing your own mint today: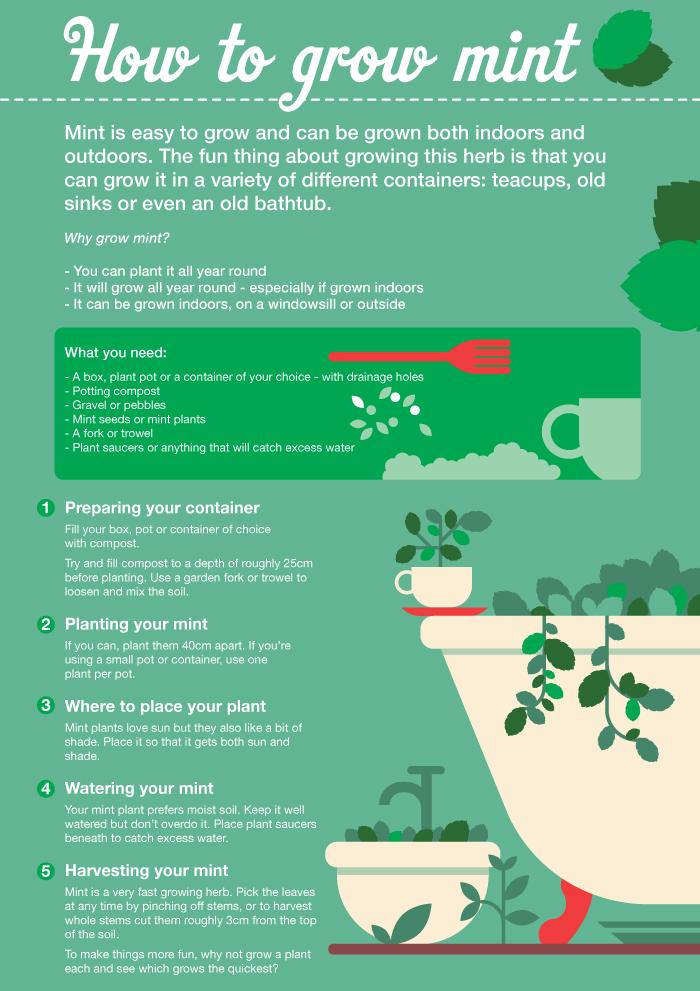 Grow your own strawberries
Strawberries are probably best known as being an accompaniment (with cream) during the Wimbledon Tennis Championship. As a versatile fruit, you can enjoy them as a summer strawberry dessert, with ice-cream or as a sweet addition in a salad. Follow our step-by-step guide to having your own mini strawberry stash just an arm's reach away. Try not to eat them all at once!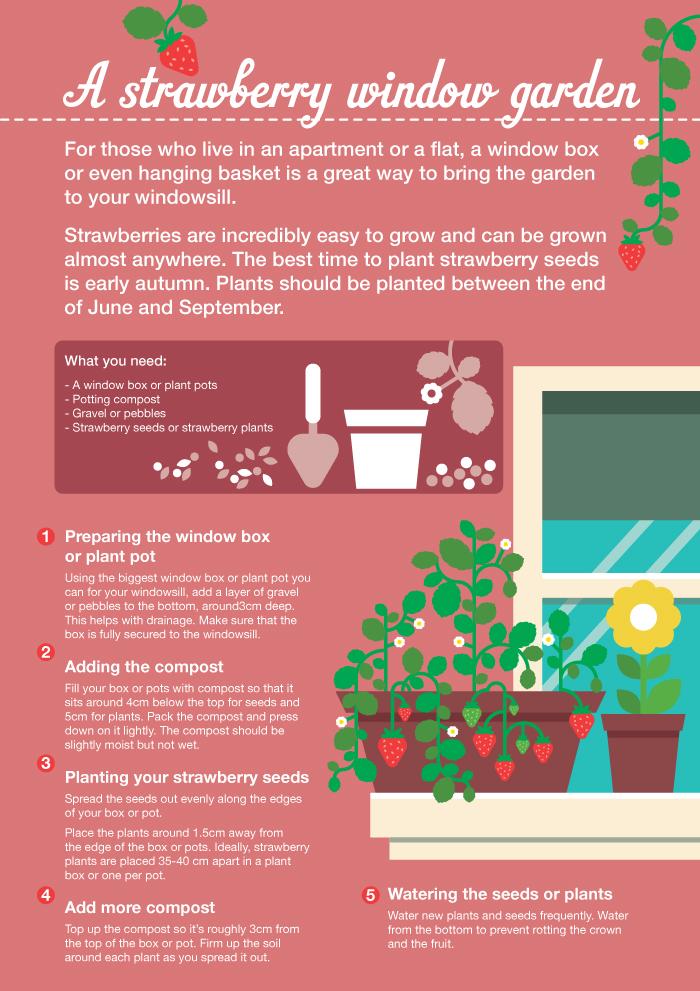 How to attract wildlife to your garden
Encouraging a variety of wildlife into your garden is one of the best ways you can improve urban biodiversity. By just making a few small changes, you can create an oasis to attract bees, butterflies and insects.
Bug hotels provide a safe hideaway for small insects to shelter and rustle about in. They're simple to build using old bits of wood, dry leaves, soil and bamboo canes. A few upturned plant pots filled with twigs and dried leaves make a cosy home for ladybirds. And wildflower seeds also create a beautiful sea of colour and offer rich territory for insects.
Why not create an insect checklist, and see which creatures make a visit to your garden?
Make a bird feeder from a plastic bottle
A simple way to invite birds to your garden is to provide food and water throughout the year. Make sure feeding stations are above the ground to keep your new feathered friends safe.
We've created a step-by-step guide to building a homemade bird feeder. Upcycling a plastic bottle is a crafty way to give something that would otherwise be put in the bin a new purpose. With just a few easy steps, you can create a feeder to attract birds to your garden in no time. You can also check out RSPB's a bird identifier to find out which species are visiting your garden. Woodpigeons, Blackbirds and Blue Tits are said to be some of the nation's most common garden bird visitors. Who will you spot?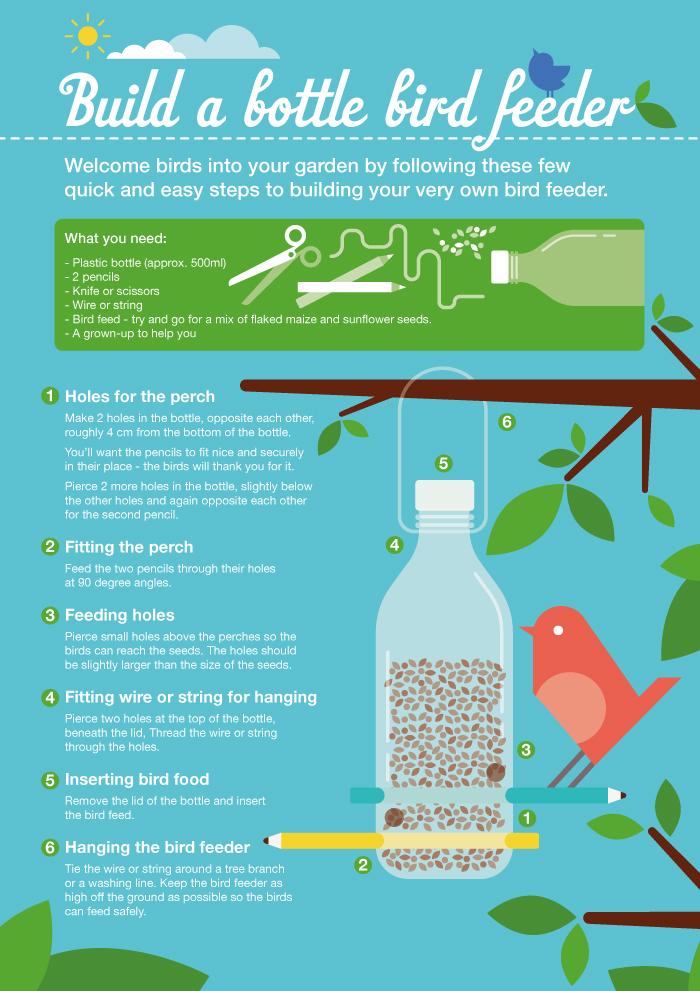 More garden and planting inspiration
We wish you the best of luck in your garden endeavors! You can share any pictures of your crafty creations by tagging #craftygardenideas via your social posts.
Fancy doing more planting? Check out our a Grow Your Own Herbs blog. Or if you're looking to spruce up your outdoor space, read our a budget-friendly tips to make your garden glow.
This Money Matters post aims to be informative and engaging. Though it may include tips and information, it does not constitute advice and should not be used as a basis for any financial decisions. Sainsbury's Bank accepts no responsibility for the opinions and views of external contributors and the content of external websites included within this post. Some links may take you to another Sainsbury's Bank page. All information in this post was correct at date of publication.