Make money. Buy a house. Learn a new language. Whatever's top of your bucket list, you might feel like it's a little out of reach. And you're not alone. In a recent Sainsbury's Bank survey, only 17% said they feel 'very confident' they'll achieve their bucket list.*
But don't feel disheartened. In the same survey, a huge 73% said they have bucket list aspirations. We just need a little motivation to get us started. So, dream big, aim high and get ready to tick off that bucket list. With the help of Kirsty Hulse, life coach, motivational speaker, and author, here are our top tips on how to set goals and achieve them.
1. Share your goals with someone
Tell someone about your bucket list goals. It could be a friend, your partner or even a parent. If you don't feel comfortable sharing with someone you know, there are accountability groups and coaches out there too.
The main thing is to find someone you know who will support you wholeheartedly without any judgement. Tell them what your bucket list goals are and why you want to achieve them. Ask them to check in with you on pre-agreed intervals to see how you're progressing – and give them permission to hold you accountable.
Kirsty backs having an accountability partner in goal achievement too: "Accountability has been shown to help improve our goal success. Make that claim and ask other people to hold you accountable for it."
And the accountability effect has been proven. The American Society for Training & Development (ASTD) found you have a 65% chance of completing a goal if you commit to someone. This rises to 95% if you have scheduled accountability appointments. Time to make a date with accountability.
2. Write down your bucket list goals
Get ready to put pen to paper. This is another method of accountability, but it's about holding yourself to account – as well as tricking your mind into feeling that these dreams are becoming a reality. You might be wondering 'why write down goals, isn't that a little cliche?' Trust us, it can work – and no, we don't mean using your iPhone notes app. Old school pen and paper only.
Kirsty agrees with this goal setting technique: "Writing them out by hand really helps you think and evaluate what steps you need to take to make those milestones happen." The process of handwriting your bucket list goals will help start to make it real in your mind. "Then it becomes exciting," adds Kirsty. "When we start to make it real, we give our brains a directive."
And she's not the only one who backs this method. Dr Gail Matthews, psychology professor at Dominican University of California, set out to prove this – and succeeded. In her academic study, she found those who wrote their goals down became 42% more likely to achieve them . Enough to make you want to invest in a shiny new notebook.
Give it a try, but when it comes to how to write down your goals, there are a few things to keep in mind. More on that next.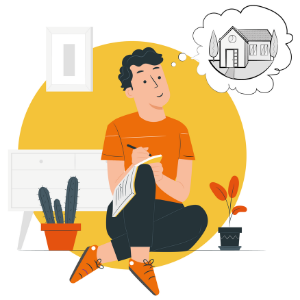 3. Think small and break down goals
Rome wasn't built in a day. And while it might have taken 1,000 years to create the ancient Roman Kingdom, it definitely won't take you that long to tick off your bucket list.
The key is to set the right foundations and start small as larger goals can feel overwhelming. So, how to break goals into manageable sizes?
In his best-selling book 'The Bullet Journal Method', author Ryder Carroll champions the 'Sprint' method . As the name suggests, it's about turning what might seem like a marathon into short sprints. Each big goal (the marathon) has a series of sub-goals (the sprints). Your sprints are tasks that you need to complete on your way to achieving your marathon goal.
It's important to make sure each goal is as specific as possible – it should answer who, what, where, why and when. This will make it much easier for you to break down the individual, actionable tasks that will get you over the finish line. If you can, assign deadlines – and don't forget to tell your accountability partner!
4. The power of visualising your goals
This is all about learning how to visualise your goals through the art of creativity. Creating a goal setting vision board is a great way to get you feeling excited about your future. And if it's a good enough for Oprah Winfrey, Will Smith and Arnold Schwarzenegger , isn't it worth a shot?
A life goal vision board is essentially a collage of images that depicts your dreams and aspirations. Put it in a place that you see daily. This works in a similar way to handwriting your goals, in that it tricks your brain into thinking these amazing things are already happening.
"Research has shown that vision boards really work – but not without action," says Kirsty. "When we feel excited and happy and motivated, we open up cognitively and that's a much better place and mindset for us to plan. So, put yourself there mentally. Tap in your imagination and think 'this is what I'm doing now, this is how it feels'."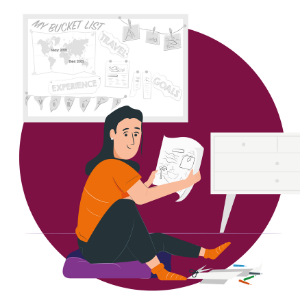 5. Embrace failure
Don't be afraid to fail. Learning how to embrace failure helps us take stock of our progress. "Allow yourself to fail. People give up. Let's accept that," says Kirsty. "When we're always moving forward, we often don't take a moment to look back. Think about the first day you started something and take the time and space to reflect upon what you've already achieved. It's amazing how empowering it can make you feel."
And there's science behind this. In a study recently published in Nature Research Journal by Northwestern University in the US, the team of scientists confirmed failure as "the essential prerequisite for success". To prove it, they created a mathematical model analysing the success of venture capital start-ups over a period of 46 years.
In the context of achieving your bucket list goals, this means giving yourself a break if things don't always go to plan. Don't put too much pressure on yourself – it's meant to be fun! The main thing is you're on the path to make the change.
6. Celebrate your success
Let's face it, we all need to get better about shouting about our achievements. Many of us may be conditioned to think that celebrating our wins is boastful. But when it comes to goals and success, positive reinforcement is key.
Shake off that preconception. If you've managed to save up and buy your first house, be unashamedly loud and proud about it. Or maybe you've landed your dream job – shout it from the rooftops. Learnt how to sew, cook, or play chess? Great! Take a moment to revel in your victory.
"One of the things I like to say is what gets celebrated, gets repeated," says Kirsty. "We have to celebrate our wins and our incremental growth. It doesn't have to be big – it can be a pat on the back, a well done – but we need that sense of reward." So, tell your accountability partner, write it in your goal notebook, or even say it aloud to your dog. Just make sure you acknowledge – and celebrate – that bucket list success.
Safeguard your future
A bucket list is a great way to map out your life goals and help you look forward in a positive way. But it's important to take measures to safeguard yours – and your loved ones' – futures. That way, you can focus on ticking off that bucket list with complete peace of mind. A life insurance policy could offer just that. You can feel reassured knowing that your family could be financially protected if the worst were to happen. Find out more in our guide to Life Insurance.
*Sainsbury's Bank completed a bucket list survey with 200 respondents in November 2020.
Sources:
https://books.google.co.uk/books?id=mHTEkvyjaLwC&lpg=PR1&dq=astd%20study%20on%20accountability&lr&pg=PR3#v=onepage&q=astd%20study%20on%20accountability&f=false
https://www.dominican.edu/sites/default/files/2020-02/gailmatthews-harvard-goals-researchsummary.pdf
https://www.cnbc.com/2019/09/13/self-made-millionaire-how-to-increase-your-odds-of-success-by-42-percent-marie-forleo.html
https://medium.com/better-humans/how-to-break-down-your-goals-into-sprints-689af9e97c52
https://www.mindbodygreen.com/0-20630/8-successful-people-who-use-the-power-of-visualization.html
https://www.scientificamerican.com/article/failure-found-to-be-an-essential-prerequisite-for-success/
https://www.inc.com/minda-zetlin/failure-success-career-setback-northwestern-university-research.html
This Money Matters post aims to be informative and engaging. Though it may include tips and information, it does not constitute advice and should not be used as a basis for any financial decisions. Sainsbury's Bank accepts no responsibility for the opinions and views of external contributors and the content of external websites included within this post. Some links may take you to another Sainsbury's Bank page. All information in this post was correct at date of publication.