The festive season doesn't have to cost a fortune…
With the winter nights approaching we share some money saving ideas to entertain the whole family when Jack Frost bites.
All of these ideas were submitted by our readers during our (now closed) money saving tips competition earlier in the year. Thank you again for all your ideas and we hope you can try some of these great tips.
Stay cosy inside...
have a dvd and duvet evening
Have a DVD and duvet evening for the children and you - make popcorn and marshmallows sticks. It's much cheaper than the cinema, and lots more fun (Mad Welsh Mam).
I often do a treasure hunt for my children.  I write the clues out - some a bit more cryptic than others - and these lead them to the next clue. Sometimes they will find a few sweets along the way.  Just to make it more interesting the final treasure can only be found using a code which can be solved only when they have all the clues. For thirty minutes of preparation the night before it can keep them amused for hours (Ian Goodyear).
Use different sized cushions, duvets and blankets to build a snugly cave. Mine start by using a blanket to create a roof over the gap that runs between their two beds (Sara).
When you get hungry…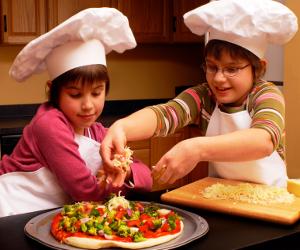 I make my own bread each week. I can make 3 large loaves and 12 baps for approximately £1.50. It's great fun to do with all the kneading (kids love helping with this part) and the smell when baking is devine (Catherine).
Get the kids to roll out some pizza dough and make your own pizzas (Shaynie Bell). Kids will have lots of fun choosing their own toppings.
If you find that bread is going a bit stale, don't throw it away, instead make a scrumptious bread and butter pudding that the whole family will enjoy (Ben Goodwin).
Get creative…
If you want to decorate your child's room, use old character annuals. Cut out the pictures (comic book style works well) and using simple pva glue stick the small pictures on your child's plain chair/chest of drawers/bedframe etc and slowly cover each item. Leave to dry and then apply a coat of clear gloss. Bingo, one funky, child friendly bedroom. My son has a fabulous superheroes room made simply from old annuals, glue and varnish! (Racheal Jones Mann).
Make your own cards. You don't need to be crafty to make a lovely card. My favourite method is to cut words of phrases out of newspapers or magazines and then just stick these on a blank piece of card, making a lovely personal note for someone (Rach).
If you do decide to venture outside…
Avoid going into town for a stroll on weekends. You will end up spending money on things you didn't know you wanted or needed. Take your family for a walk on the beach or in the park instead, you still get a day out with the family which will cost you just the [hot chocolates]! (Michaela Williams).
I cancelled my gym membership and instead bought a good pair of walking boots, waterproof jacket and trousers. Instead I now enjoy a long walk each Sunday (Lynn Mackay).
Use your library. Books, DVDs, CDs, games, free story sessions, free internet use and sometimes toys – you can have a great morning out with the kids for no cost (Jai).
This Money Matters post aims to be informative and engaging. Though it may include tips and information, it does not constitute advice and should not be used as a basis for any financial decisions. Sainsbury's Bank accepts no responsibility for the opinions and views of external contributors and the content of external websites included within this post. Some links may take you to another Sainsbury's Bank page. All information in this post was correct at date of publication.