There are lots of reasons to move house but Money Matters contributor Kate Burt explains why improving your current home can be the perfect solution...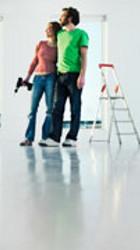 There are lots of reasons to move house – such as an expanding family, or the need for more space to work from home. But with the market still sluggish, is now the right time to up sticks?
Samantha Baden, property analyst at findaproperty.com, says the number of transactions on her company's website has dropped from between 1 million and 1.5 million per year before the credit crunch, to 600,000 today. Though, on a brighter note, she adds: 'We're definitely in a state of recovery. People are still moving and prices are relatively stable for now.' But the pitfalls of moving home don't stop at availability and price – there's also the cost of moving itself. So, are you better off to stay put for a while and invest in the home you already have? Here's what you need to know.
Extensions
'The number one consideration when improving your home is space,' says Samantha. 'Presentation and décor may hook in buyers but it won't translate into pounds, whereas adding square footage will.'
So extending – if you have the scope – makes sense. And the best value is to add another bedroom. 'Adding another bedroom could cost you £20,000 plus for a complex expansion, but could increase the value of your home by £20,000 to £50,000, depending on prices in your area.' explains Samantha.
Other ways to extend include side returns on Victorian properties. 'Make it a two-storey extension if planning allows,' advises Françoise Murat of architects Françoise Murat & Associates.
Basement conversions
Again, this will set you back at least £20,000 – but if it gives you an extra bedroom or second living room, it could boost your property's value significantly. That said, you're unlikely to get two additional bedrooms out of this kind of conversion – it is more likely to provide a playroom or new kitchen, which many families looking for a home will really value,' says Samantha.
'Ensure you work with basement specialists – builder and architect – because it is a specialist project,' advises Samantha, who also suggests incorporating light wells or sun pipes where possible, 'so it doesn't feel like a tomb.'
Lofts
You can convert a loft for as little as £10,000, depending on the property and your specifications. But not all lofts are suitable – you'll need at least 2.3 metres of height. 'Most pre-1975 properties are unsuitable,' says Samantha, 'while modern trussed roofs might need more structural work.' She adds: 'This can be a very economical way to add an extra bedroom and can take your property's value up by about £20,000 to £50,000.'
Extra bathroom
'This is highly desirable, especially in family homes,' says Samantha. 'And it's something you could do relatively economically – but it could add up to around £20,000 in value.'
For something basic, you're looking at as little as £500 for the bathroom suite itself, then expect to pay a builder about £400 for a straightforward replacement of a shabby suite for a new one.
These costs don't include extra materials, such as new storage units, wall and floor tiles, or the building labour costs. Also, the price of creating a bathroom from scratch varies wildly depending on whether plumbing is already in place and how much other structural work is needed.
New kitchen
It may make you feel happier, but Samantha isn't convinced that a new kitchen translates into a long-term investment if you're planning to sell later: 'What's the first thing most people do when they move home? They rip out the kitchen because it's not to their taste.'
Case study - reaching lofty heights
'By staying put we've saved about £20 000 to £30 000'
Andy Daglish and his partner, Ana de Almeida, decided to upgrade rather than uproot from their Victorian terrace in Loughborough once their son, Miguel, 13, and daughter, Amaia, 15, reached an age when they needed their own bedrooms. Andy and Ana didn't want to move because their home is in the centre of town, a very convenient location, and their children are happily settled with a good network of friends. Also, the pair work in education in the public sector and felt a degree of uncertainty about the security of their jobs.
'We decided to convert the loft because it's cheaper than moving, especially when you take into account all the estate agent fees we'd have had to pay,' says Andy. 'While we were at it, we knocked down a wall between the back bedroom and the corridor to make the adjoining bathroom an ensuite. We also redesigned the kitchen to create a small morning room. We're thinking of converting the cellar next.' So how have the sums added up so far? 'By staying put, we've saved about £20,000 to £30,000,' confirms Andy, 'and the value of the house has increased.'
Your home insurance
If you decide to improve your home, you should let your home insurer know before you start work, and make sure your policy is up-to-date and will provide adequate cover.
This post was written by Money Matters contributor Kate Burt.
This Money Matters post aims to be informative and engaging. Though it may include tips and information, it does not constitute advice and should not be used as a basis for any financial decisions. Sainsbury's Bank accepts no responsibility for the opinions and views of external contributors and the content of external websites included within this post. Some links may take you to another Sainsbury's Bank page. All information in this post was correct at date of publication.