Create new treasures from old
Save money and up-cycle...
At the beginning of a new year our thoughts often turn to our homes and how to revitalise them, but in the wake of the festive season money can be a bit tight. So if you're longing to start some interior design projects, why not try up-cycling? Up-cycling - where you take something old and turn it into something new - is making a big comeback in the current economic climate.
Our Family Blogger Network members are full of great ideas, so we asked them for some up-cycling inspiration.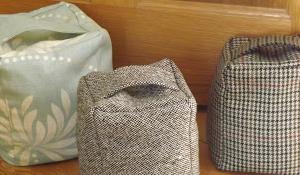 A stylish doorstop
Lizzie created these cute and simple doorstops from old tweed clothing and an old floral curtain. If you love these as much as we do, you can head over to Lizzie's thrifty doorstop tutorial to find out how to make your own.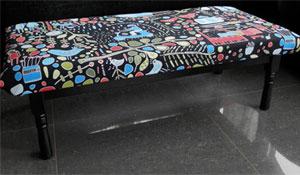 A coffee table turned footstool
Mum of all Trades has a lot of feet in her family so she rescued this small coffee table which had been moved out to the garage and created this beautiful footstool.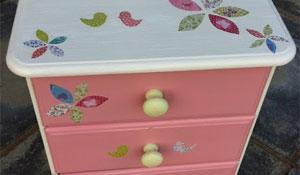 Cute bedside drawers
Dara really is a mum of all trades as she also transformed these bedside drawers into something which would be loved in any little girl's room.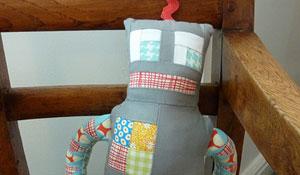 A softie robot
Not to be outdone, Helen made a softie robot! Miraculously Helen achieved this mainly from scrap material. You can follow her progress over on Angharad.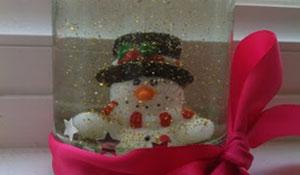 A glittering snow globe
So Christmas is over for another year, but this snow globe from Sharon was so beautiful that we had to include it. Maybe you could get a head start on next year? With the help of her children, Sharon made this amazing snow globe from just an empty glass jar, glitter, a Christmas ornament and the secret to floating glitter - glycerine.
Feeling inspired?
You can find more extraordinary ideas on turning something old and unwanted into something prized from My Salvaged Treasures.
 If you have anything you've up-cycled, we'd love to see it. You can share it on our Facebook page.
This Money Matters post aims to be informative and engaging. Though it may include tips and information, it does not constitute advice and should not be used as a basis for any financial decisions. Sainsbury's Bank accepts no responsibility for the opinions and views of external contributors and the content of external websites included within this post. Some links may take you to another Sainsbury's Bank page. All information in this post was correct at date of publication.