Funny stories from our Network bloggers…
Get inspired for Red Nose Day with these witty tales from members of our Family Blogger Network...
On 15th March 2013, people across the UK did something 'funny for money' in honour of Red Nose Day. The money raised on Red Nose Day is spent by Comic Relief to help people living incredibly tough lives across Africa and here in the UK.
For a bit of comedy inspiration, we compiled some of our favourite funny anecdotes from bloggers in our Family Blogger Network.
Read, laugh and let their stories to get you into the spirit of Red Nose Day…
---
- Mark of SonnyandLuca.co.uk discusses how talking to himself in the supermarket can cause a bit of confusion.
 'Are you OK Sunshine?'
'Not bad thanks, could do without College tonight, but can't cry off again.'
The question was aimed at Luca.
The reply came from a young lady stood behind me in the supermarket queue.
Seriously, who answers a stranger stood with his back to them? In fact, who answers to Sunshine over the age of three? The sensible thing to do is explain, laugh, and walk away.
My brain is too slow for sensible.
She was re-sitting her Maths A Level, at North Trafford College, on Mondays and Wednesdays. She missed last week with flu. She didn't have flu. Her cat had flu. Smokey the cat.
It's not the first time.
'Salmon or Haddock?' I asked Sonny.
'Er, salmon' An old lady replied; sheepishly.
Did I explain? Nope, I said thank-you and bought salmon. Sonny doesn't like salmon. He doesn't even like haddock but will at least eat it if salmon is the only alternative.
A few weeks ago…
'Shall I buy some Hobnobs for mummy?'
'Does she like Hobnobs?" Came the reply.
This was my most shameful. I didn't even have the boys with me.
See, I talk to myself. It's directed at my boys, but I'm really talking to myself. This is what having kids has done to me. Well, kids and old age."
---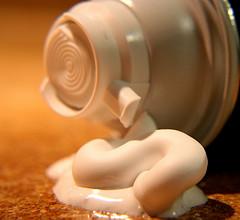 Image by katerha via Flickr
- Jo of JoBeaufoix.com explains one downside of multitasking.
A word of advice.
When you're driving to work, and you've spent the morning doing birthday breakfast and prezzies with your now 8-year-old, then dropped your girls to school, then watched the small one in assembly, then rushed to meet your sis-in-law, then to the shops to purchase a few bits, (and breath) it is not advisable to reach into said shopping bag and grab a can of deodorant to spray a little freshening blast under your arm-pit.
Why?
Well you might, maybe, just possibly grab a can of ladyshave instead…
And then you'd have to wash your top when you got to work and wander round with a soggy under-arm for the next 3 hours.
Not that I'd do that or anything.
Cough.
---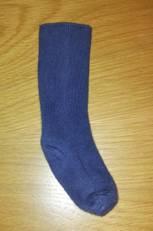 - Laura of ChezMummy.com pleads for the safe return of her son's sock.
Last seen dangling from a certain baby boy's foot while bouncing about in his jumperoo earlier this afternoon.
It is suspected of trying to flee the scene after the baby boy in question tried to eat it.
May be cowering down the back of the sofa or perhaps under the cot, although a comprehensive search of the area has so far failed to uncover it.
It is being missed terribly by said baby's left foot and also its identical twin sock.
It is likely to have found the same hiding place as the biscuit that went missing last week and the farmer figure from the Fisher Price World of Little People farmyard, who disappeared last year and is still on the run.
No reward is offered for the sock's safe return - it is only a sock after all, not a favourite toy - but any help that can lead to it's recovery will be appreciated.
If found, do not approach as it may be dangerously smelly.  Instead, please call 555-STINKY.
Many thanks.
---
These giggle-inducing excerpts are the perfect inspiration for Red Nose Day. Just like these funny bloggers, you too can make people laugh by doing something funny for money on Red Nose Day. Get involved by checking out our fundraising ideas.
Comic Relief, registered charity 326568 (England/Wales); SC039730 (Scotland)
This Money Matters post aims to be informative and engaging. Though it may include tips and information, it does not constitute advice and should not be used as a basis for any financial decisions. Sainsbury's Bank accepts no responsibility for the opinions and views of external contributors and the content of external websites included within this post. Some links may take you to another Sainsbury's Bank page. All information in this post was correct at date of publication.