How to Buy a Puppy Responsibly
They say a dog is a man's best friend, but in reality, they're much more than that. They're a member of our family, the first one ripping open presents at Christmas, and there for a cuddle on our best and worst days.
If you're thinking about adding a furry friend to your family, there's plenty to think about when buying a puppy responsibly. We'll guide you through each step of the process and give you tips on questions to ask and what to look for when buying a puppy from someone.
Do your research
If you're new to being a puppy parent, you'll want to learn as much as you possibly can before you buy. What's involved in being a dog owner? How much does it cost to care for a dog? And do you have enough in your love tank to care for a four-legged friend?
Whether you're an existing or new member (welcome!) of the dog owner club, look into the breed of dog you think you'd like. Will this pooch suit your lifestyle? Are they typically laid back or super active? How much grooming do they need?
Learning how to care for your pet is essential if you want to buy a puppy responsibly.
Once you've chosen your breed, and you're sure you've got enough time and attention to devote to a furry family member, start exploring breeder options.
2. Ask lots of questions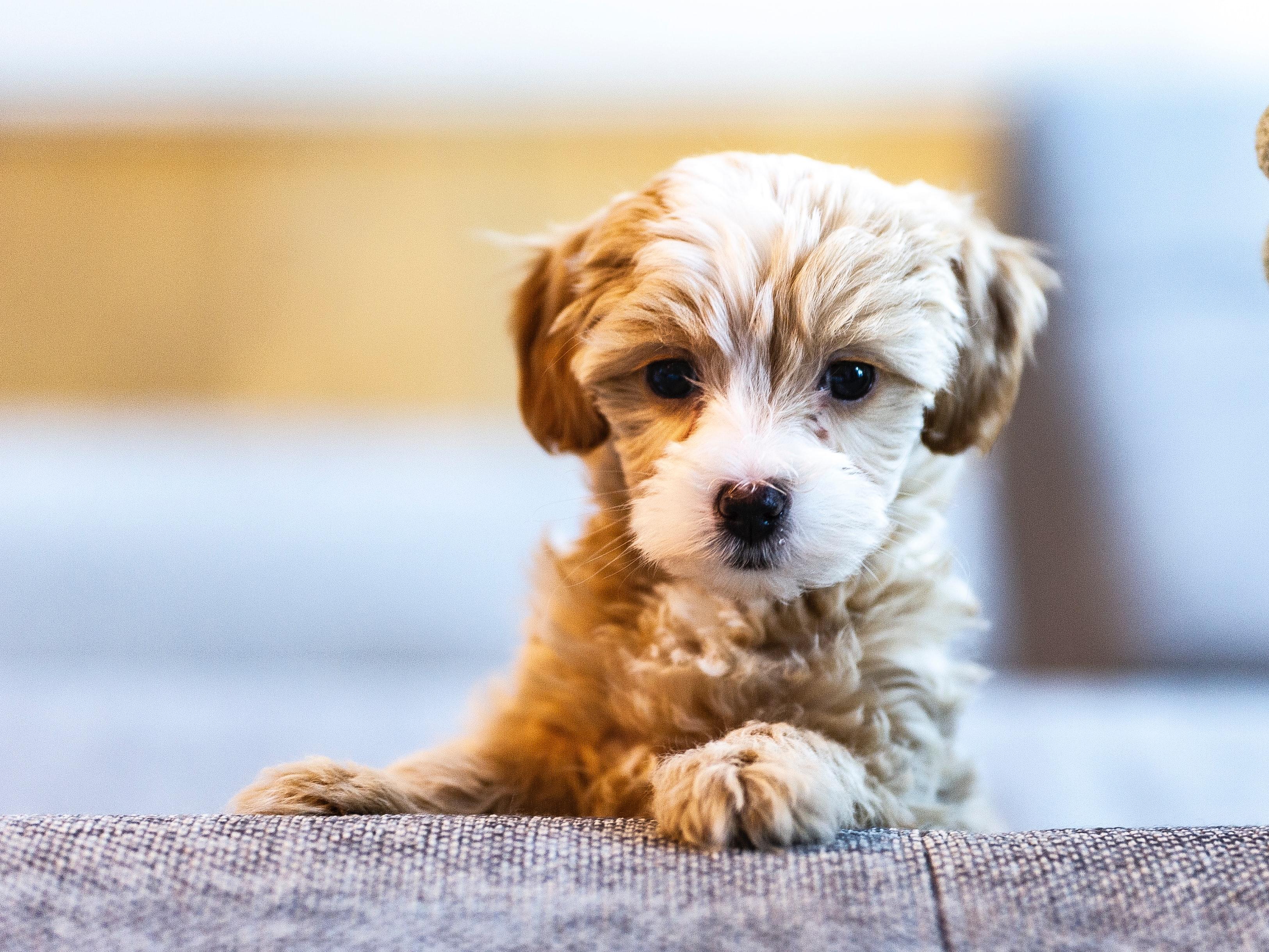 So, you've shortlisted some potential breeders. You'll now want to make a list of things to ask about your new puppy. Here are some suggestions:
19 questions to ask when buying a puppy
How old is the puppy? A puppy should be at least 8 weeks old before they come home with you, but the older they are, the more of an adjustment period you may have.
Can I meet the puppy's parents, or at least the mother? The mother should not be breeding before she is at least one year old. She also shouldn't have had multiple litters within a 12-month period, or more than six litters in her lifetime. It's worth checking this with the breeder.
Can I see the full litter? It's always preferable to meet at the puppy's place of birth and to see the wider litter if you can. Healthy puppies should have clear ears and eyes and shiny coats. If your puppy seems unwell when you go to collect, rearrange collection or think about finding an alternative breeder.
Is the puppy weaned? Weaning usually happens around 4-8 weeks, and a puppy shouldn't be taken from the litter until weaned.
What kind of diet does the puppy need? You can find information from reputable sources about the ideal diet for a puppy of your chosen breed, but also check with the breeder to see if they have any specific dietary issues before you take them home.
Can I see their pedigree history? If a breeder doesn't have this information, this may be a red flag and you might want to consider going with someone else.
Is there anything I should know about this particular breed? It's always a good idea to do plenty of research on your chosen breed, but you can also ask the breeder for more insights.
How long has the puppy breeder been breeding this particular breed? You should be able to find this type of information online for most breeders these days. If it appears they may be a puppy farmer selling litters on a regular basis, this is another red flag.
How should I socialise the puppies? Planning in when and how to socialise your new puppy is a key task – and you might also want to consider behavioural classes if you need a hand training your new friend.
Does the breeder have health test paperwork? A reputable breeder should have documentation on the health of the puppies in their litter, as well as the puppies' parents.
What vaccinations and treatments has the puppy had? The initial vet checks and vaccinations should be carried out around 6-8 weeks of age. Ask to see documentation of dates and surgery locations before you take your puppy home.
Has the puppy been dewormed? Deworming of a puppy should begin around 2-3 weeks of age with a product recommended by a vet. Make sure you ask for the date this was carried out and the name of any product used.
Are there any reviews from previous puppy buyers? In addition to information on how often the breeder has sold puppy litters, try to speak to someone who has used them in the past. You could look for reviews of the breeder online. If there are none, they seem vague, or recurring problems are mentioned in reviews, these are all red flags.
What kind of guarantees can I expect from the breeder? Your breeder should have clear details on any guarantees – particularly with regards to returns – that they offer.
What happens if I discover a health condition after having the puppy for a while? Can I return the puppy? This isn't something any of us want to consider, but you should always get your own health check with a vet within a few days of purchase. Make sure you have it in writing that you can return the puppy to the breeder and receive a refund if there are health concerns.
What's the best way to contact a breeder after adopting a puppy? Make sure that you have reliable contact details, and that you have been to see the breeder at their location. Don't ever agree to have the breeder drop the puppy off with you, or at another location.
What does the breeder need from me before I can buy the puppy? A trusted breeder should be asking you questions about the home environment you offer and why you're looking to buy a puppy. If they seem unconcerned with this, that may be another red flag.
When can I take the puppy home with me? Once you have all the necessary health information in place, you can confirm a date with the breeder for you can take the puppy home. If you want to take the puppy home as soon as possible after the eight-week point, make sure all the health checks are completed and documented beforehand.
Is there anything you recommend I buy in advance? Before you bring your new puppy home, it's a good idea to make sure you're prepared for their arrival. In addition to essentials like food, bowls for food and water and a lead, consider things like a crate, pee pads for toilet training, toys and blankets. Your breeder may also have some advice on things your puppy particularly likes or had become accustomed to.
While choosing what breeder to buy from, take the time to research them. Seek out independent reviews and verify any licenses or certificates they show you. Be careful if you're looking at buying a dog online. It might feel like the easiest way, but online dogs-for-sale advertisements are not always what they seem.
3. Meet your pooch's family
You'll learn the most about your pup by meeting its parents. How healthy are they? What is their pedigree history? How and where are the puppies being raised? Do they seem happy?
What you want to see is a litter of puppies who are interacting with their parents and who show no visible signs of distress or ill health.
If anything feels off, trust your gut – it could be a sign of a far bigger problem.
4. Check your puppy paperwork
To be sure that everything is hunky-dory with your pup, you'll also need to take a look at their paperwork. Ask for documents detailing any vaccinations, vet checks, and microchipping. And request a full pedigree history if you're buying a pedigree dog.
As we mentioned above in the key questions, your puppy should be at least 8 weeks old before they go home with you. Most breeders will handle initial vaccinations and deworming treatments. They're also responsible for ensuring the puppy is microchipped before you take them home.
5. Consider a rescue puppy
While it's exciting going through the process of adopting a puppy from a litter you've been able to familiarise yourself with, another option to consider is a rescue puppy.
Sadly, many puppies have to be rescued from unsafe environments each year, and they need a safe and loving home as much as any other dog. They can make fantastic pets, but of course, may come with a few additional needs.
Depending on the level of neglect and/or trauma a rescue pup has been through, they could need some additional patience and care when it comes to adjustment periods, behavioural training and learning routines.
It may be hard work initially – and let's be honest, any puppy can be a challenge early on – but it can also be incredibly rewarding to know that you've helped a pup who's been through a hard time find a caring forever home.
You might already be aware of local shelters in your area, but charities like the Dogs Trust and RSPCA can be a good place to start if you're considering a rescue pup.
6. Take your time
There's no reason to rush this process. Adopting or buying a puppy is exciting, but remember that it's a big decision.
You're choosing to add a furry friend to your family. Whether you opt for a pedigree or a rescue pup , they'll need plenty of love and attention. Buying a dog is also a big commitment – financially and otherwise – so be sure that you're ready for it. Puppies aren't just for Christmas.
And before they come home, make sure you consider putting pet insurance in place.
This Money Matters post aims to be informative and engaging. Though it may include tips and information, it does not constitute advice and should not be used as a basis for any financial decisions. Sainsbury's Bank accepts no responsibility for the opinions and views of external contributors and the content of external websites included within this post. Some links may take you to another Sainsbury's Bank page. All information in this post was correct at date of publication.