A child's Christmas stocking is one of the most magical parts of Christmas morning, but as parents, it's easy to get carried away and overspend. So, how can we provide a stocking bursting with amazing goodies for their children without going over our budget?
With a bit of planning and a few good ideas, you can fill your child's Christmas stocking without financial stress, even if you didn't save money for Christmas this year.
How to save money at Christmas
Don't overbuy
In the run-up to the big day, it's easy to lose track of what you've bought. You can even end up with more stocking fillers than you need because you were worried you wouldn't have enough.
The best way to avoid overbuying is to pull the stockings out of storage and fill them as you buy things. This way you'll know when you have bought enough and can avoid wasting money on unnecessary gifts. We've found it's better to wrap everything at the end - if you wrap gifts along the way you're bound to forget what you have (and wonder if you remembered to put in the chocolate coins!).
Split up multipacks
Just because you bought unicorn lip gloss as a pack of three doesn't mean you have to keep it that way. Splitting up a multipack and sharing the items across your children's stockings is a good way to take advantage of multi-buy deals and discounts
Include some bulky items
A few bulky items will help fill space in stockings, so they appear jam-packed with goodies. If you're on a budget, this is a top tip as sticking to smaller gifts inevitably means you'll buy more and spend more money as a result.
Good ideas for kids of any age include funny, festive or character socks and underpants, a pair of gloves or mittens, a bobble hat, a water bottle and shower gel or bubble bath (a favourite scent or character).
For younger children, a stuffed animal is a sweet idea - especially if its head is poking out the top of the stocking. If your child's class at school is named after an animal, a plush toy that's the same animal can be a particularly nice touch. For teenagers, an eco-friendly travel mug is ideal for taking up space in the stocking.
Cheap and cheerful stocking gifts
While you'll need a few bulky items to fill up the stocking without breaking the bank, it's also a good idea to include lots of small, inexpensive gifts to extend the present-opening on Christmas morning. If you're stuck for ideas, here are some tips for a nicely-balanced stocking: toys & games, books, stationery, toiletries and sweets.
Cheap Christmas stocking filler ideas
Here are some thoughts for your shopping list: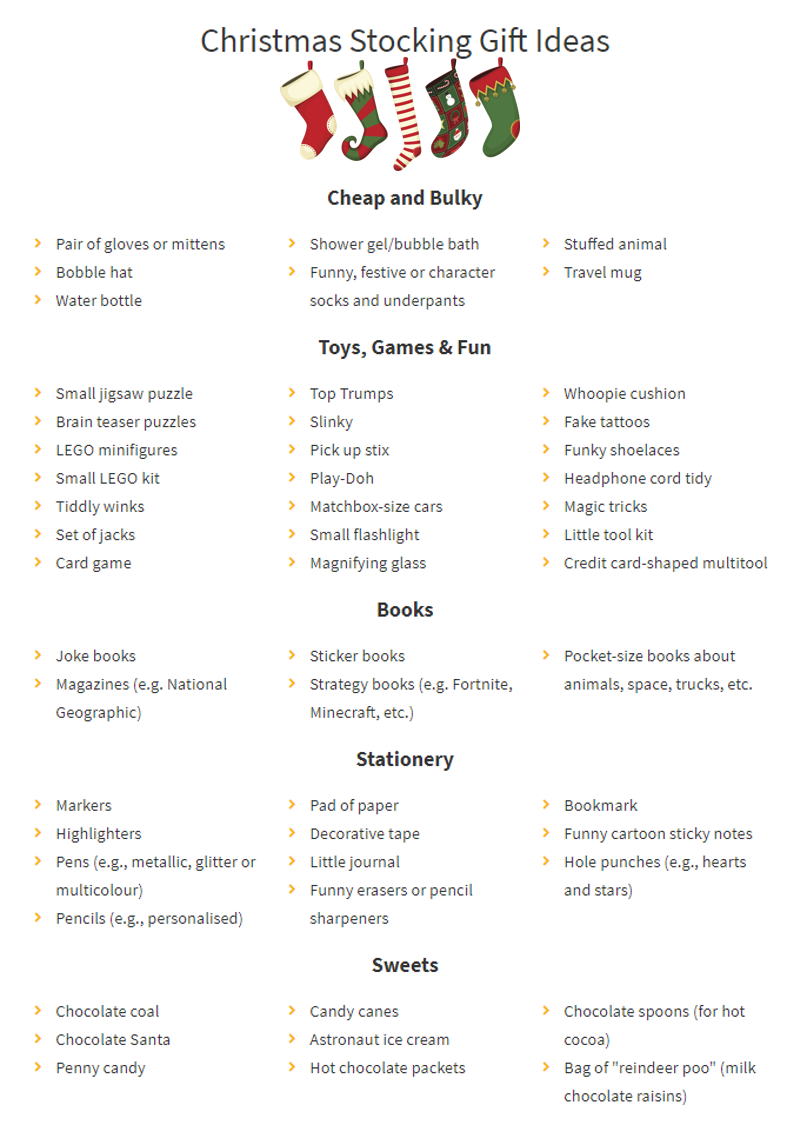 Toys, games and fun
Toys and games are some of the best things to put in stockings. Argos may be able to give you some ideas. They'll help provide entertainment away from screens on Christmas day - and hopefully throughout the year. But, be careful as these can cost between £5 and £10 each. This can quickly add up, making stockings quite expensive if you lose track of how many of these gifts you've bought. In the run up to Christmas many retailers will offer discounts like 3 for 2 buys, so keep an eye out for deals. You can also find some items in multipacks to share.
Ideas Include:
little puzzles (jigsaw and brain teaser)
LEGO minifigures or a small LEGO kit (there are often ones out for the holidays)
tiddly winks
a set of jacks
a deck of cards/kids' card games
Top Trumps
a Slinky
pick up stix
Play-Doh
Matchbox-size cars
a little tool kit/credit card-shaped multitool
a small flashlight
a magnifying glass
a whoopie cushion
fake tattoos
funky shoelaces
a headphone cord tidy/organiser
magic tricks
Books
Whether or not your children are big readers, Christmas gives us a great opportunity to introduce some fun reading. Joke books, magazines (e.g., National Geographic) and strategy books (e.g., Fortnite, Minecraft, etc.) are all-time favourites and often small enough to fit into a Christmas stocking. Another idea is to roll up your child's favourite magazine and tie with a ribbon.
For younger children, sticker books are always a great idea. And older kids might enjoy a book of Sudoku, crosswords or logic puzzles.
Stationery
Who doesn't love stationery products? Kids certainly do – and the funnier the better. For example, you can buy novelty erasers shaped like a banana or smelly gel pens.
A quick internet search, and you'll find more than you imagined. Many of these are sold in multipacks that can be made to go further by splitting them up across your children's stockings. You can even buy personalised pencils and pencil cases for school.
Stationary ideas include pens (e.g., metallic, glitter or multicolour), pencils (e.g., personalised), funny erasers or pencil sharpeners, markers, highlighters, pad of paper, decorative tape, little journal, bookmarks, funny cartoon sticky notes and hole punches shaped like hearts and stars.
Toiletries and beauty
Everyone loves getting fizzy bath bombs in their stockings and it's easy to find child-friendly toiletries in supermarkets. Look out for shower gel in the form of their favourite character or even hair chalk to (temporarily!) dye their hair.
For girls, fruit-flavoured lip balm is always a great idea, as are play jewellery, headbands/hair ties, nail polish, hairbrushes or even a Christmas tiara.
For boys, you can buy soap on a rope, scented body wash or spray, hair gel, combs, etc.
Sweets
No stocking is complete without some sweets. Easy festive ideas include chocolate Santa's, candy canes, chocolate coins, chocolate spoons (for hot cocoa), etc. If you and your children like a laugh, put milk chocolate raisins into a little bag tied with a ribbon and labelled 'Reindeer Poo'. But don't tell them we told you to do that.
Where possible, buy bigger packs to save money and share sweets across your children's stockings. If you enjoy cooking, you can even make your own hot chocolate stirrers.
Christmas savings
Whether you're saving for the festive season or just looking to put away some pounds, our range of savings accounts offer lots of ways for families to save money.
This Money Matters post aims to be informative and engaging. Though it may include tips and information, it does not constitute advice and should not be used as a basis for any financial decisions. Sainsbury's Bank accepts no responsibility for the opinions and views of external contributors and the content of external websites included within this post. Some links may take you to another Sainsbury's Bank page. All information in this post was correct at date of publication.