Apply for an Everyday Credit Card
Discover a credit card that makes it easy to earn Nectar rewards while you shop and with an app to help you stay on top of life's expenses.
Benefits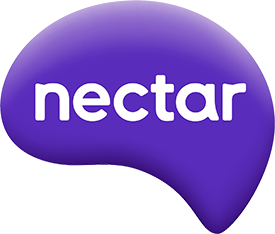 Earn extra Nectar points when you use your card †
Collect up to 3 Nectar points for every £2 you spend at Sainsbury's, Argos, Habitat and Tu Clothing when you pay with your Sainsbury's Bank Credit Card and scan your Nectar app or swipe your Nectar card. And you'll get at least 1 point per £5 elsewhere †
Managing your account is easy
Keep track of your balance and payments in the app and get text alerts for transactions and upcoming payments.

An initial credit limit between £1,000 - £2,000
Enough to cover everyday needs and the occasional big spend.

The rate you see is the rate you get
You're guaranteed to get 29.4% APR, if you're accepted.

Qualify for a reduction in your APR
If you use your card on a regular basis and make all minimum payments on time, your account could be eligible for an APR reduction.

Grow with your card with credit limit increases
Your credit limit could increase if you use your card regularly and make at least the minimum payment on time every month.

No annual fee

Add to your digital wallet
Pay with Google Pay™ or Apple Pay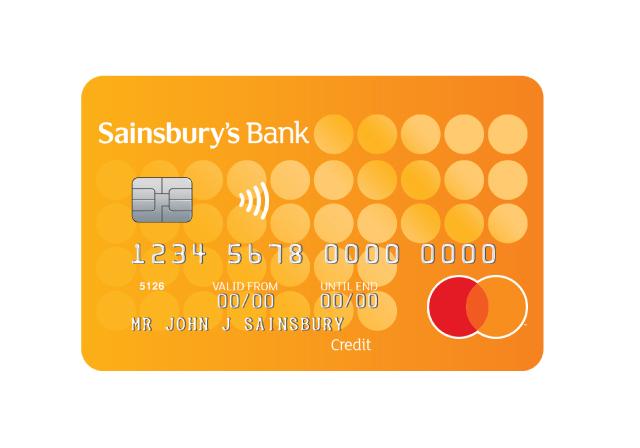 Representative Example
| Purchase rate | With a representative | Assumed Credit limit |
| --- | --- | --- |
| 29.4% p.a. variable | 29.4% APR Variable | £1,200 |
Purchase rate
29.4% p.a. variable
With a representative
29.4% APR Variable
Assumed Credit limit
£1,200
Check your eligibility for the Everyday Credit Card without affecting your credit rating
Our free eligibility check
won't affect your credit rating and only takes a few minutes. Use this tool to find out whether you're likely to be accepted for a credit card before you apply.
Credit is subject to status. T&Cs apply. Your credit limit will vary depending on your individual circumstances.
How does the Everyday Credit Card work?
Our Everyday Credit Card has been designed for life's ordinary purchases and, like all credit cards, allows you to flexibly spread repayments on your spending. Our credit card app can help you keep track of your daily spend, giving you more of an overview of what your outgoings are. In addition, manage your account well and we'll assess you for an interest rate reduction in the first year, as well as regular credit limit increases. You can earn Nectar points on purchases too.
If you apply for the Everyday Credit Card and are accepted, you'll need to make at least the minimum monthly payments and stay within your credit limit to avoid negatively impacting your credit file. If you pay less than your full statement balance, you will incur interest.
Managing your account is easy in our app
Quick, easy, and secure, our handy credit card app lets you manage your credit card wherever you are, whenever you want.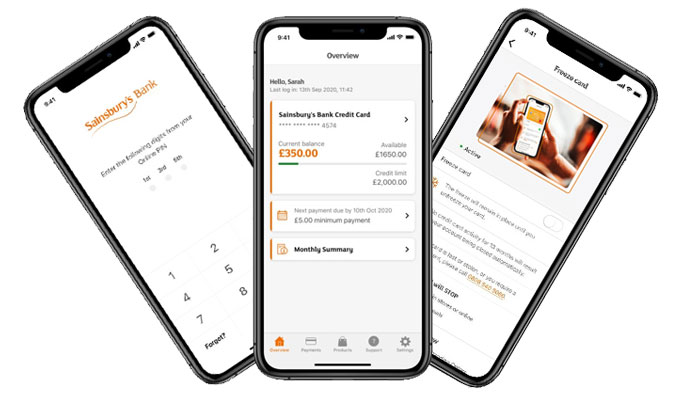 Simple and secure

Check your transactions and upcoming payment details

Make payments to your Everyday Credit Card using a debit card

View and amend direct debit information

Keep your card safe with a temporary freeze if you misplace it

Customise your SMS purchase alert notifications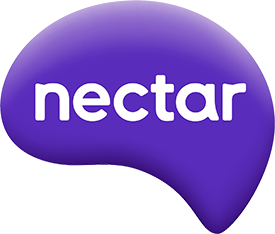 See how many Nectar points you've earned
Download the 'Sainsbury's Bank Credit Card' app from the Apple App Store
or Google Play Store
.
How to apply for the Everyday Credit Card
Applying for a Sainsbury's Bank Everyday Credit Card is quick and easy.
Check the important information – read through the important information about the checks we will do and details about terms and conditions before you start.
Check your eligibility – start by using our credit card eligibility checker to see how likely you are to be accepted for the Everyday Credit Card, without affecting your credit score.
Submit your application – once you're in the application process, you'll need to enter personal details, employment and financial information. Keep in mind this will trigger a full credit search and leave a mark in your file.
If successful, sign your agreement – if your application is approved, you'll get confirmation and will be presented with your credit agreement to sign.
Receive your credit card – you'll get your Everyday Credit Card through the post, which you'll then need to activate online to begin using it.
Frequently asked questions
How does the interest rate reduction work?
Providing you are using your card regularly and make all your minimum payments, you may be eligible for a reduction of your Purchase interest rate within the first year of you opening your account.
As set out in our Terms and Conditions and Credit Agreement, we may vary the interest rates applicable to your account for a number of valid reasons, and for any rate increase we'll tell you at least two months before making the change.
This means that if your rates go up or down, the interest rate reduction you get will be applied to that new higher or lower rate.
Is it OK to use your credit card daily?
Yes, you can use your credit card daily but remember you will need to ensure you are able to afford the repayments, including any interest that might be charged if you don't pay off the balance in full every month.
Using your credit card daily could mean you earn rewards on your daily spending habits and build your credit rating provided you make all monthly minimum repayments on time.
What can I use my Everyday Credit Card for?
You can use your Everyday Credit Card for daily spending. This includes things like the weekly grocery shop, petrol and more. However, it's important to always stay within your credit limit and make at least your minimum payment every month to avoid impacting your credit file.
How do I add my Everyday Credit Card to my Apple or Google Wallet?
To add your Everyday Credit Card to your iPhone:
Open Wallet
Tap the +
Select 'Debit or Credit Card'
Enter your card's details manually or use your camera to enter the information
To add your Everyday Credit Card to your Android device:
Open Google Wallet
Tap 'Add to Wallet'
Select 'Payment card'
Choose 'New credit or debit card'
Enter your card details, then tap 'Save'
How can I check my statement or track my spend?
Our credit card app lets you track your transactions wherever you are, whenever you want. You can check your statement by logging into your online banking account and selecting the 'My accounts' summary page. This will give you an overview of your Sainsbury's Bank Credit Card account, your latest transactions, and your statement.
How can I spend the Nectar points that I earn?
There are many ways to redeem your Nectar points – meals out, some holiday reading, or money off your next purchase at your favourite shop. There's a great overview of ways to redeem your Nectar points on the Nectar website
. Or download the Nectar App to stay up to date when you're out and about. Choose your reward and then swipe your Nectar card, spend online or use your voucher as instructed.
How can I improve my credit rating?
Whilst using credit cards responsibly to build credit is one way you can help improve your credit score, you can also improve your credit rating by staying on top of your finances. Here are a few tips on how you can do this:
Make repayments on time. Making your payments on time, every time is an important way to build your credit score. Late or missed payments can be reported to credit reference agencies and are often used by lenders to ascertain your likelihood of making future payments.
Check your credit report regularly. You can check your credit report to pick up on any potential problems or suspicious activity before you make a credit application. Equifax, Experian, and TransUnion all let you see your report for free and you can get in touch with them directly if you spot any mistakes.
Get on the Electoral Register. If you're not signed up to vote or your details don't match, lenders can find it harder to check your identity. It's quick, easy and free to register to vote.
Settle any outstanding CCJs or credit agreement defaults as far as is affordable. It's important to settle any CCJs or defaults as soon as possible in order to prevent further harm to your credit score and get it moving in the right direction.
Spread out any credit applications, so they're not over a short space of time. Each application for credit leaves a mark on your credit report. Applying for too many credit products in a short space of time can be a warning sign to lenders.
Stopping frequent withdrawals of cash from your credit card. Taking cash out with your credit card can be seen by lenders as a sign of cash flow problems and could negatively affect your credit rating. Using your debit card for cash withdrawals helps keep your credit rating intact.
Stay within your credit limit. It's important to try to keep below your credit limit. Not only will this help avoid any overlimit fee, but it could make you look more reliable to lenders. Check your account balance regularly to get an idea of how close you're getting, or get in touch with your lender if you want to increase your limit or see what steps you can take if you need help.
What does variable APR mean?
Most credit cards have a variable APR, which means that your card's interest rate could change after it's opened. This can change depending on how much it costs us to provide you with credit - for example when the Bank of England base rate changes - our assessment of your ability to repay, or other factors. If the APR on your card is going to change, we'll usually tell you before it happens and explain how it could affect your monthly repayments.
What is an APR?
An APR, also known as an Annual Percentage Rate, is the cost of borrowing over a year. It's the total cost of the credit i.e. the interest rate (e.g. 29.4%) plus any standard fees every cardholder pays, such as an annual fee. All other fees and charges such as missed payment fees and cash withdrawal fees are excluded from the APR. The advertised APR is calculated the same way by all credit providers, allowing you to compare cards across the market.
Helpful credit card guides
Explore our full credit cards support
Browse the FAQs, read handy guides on managing your account, and more.
Guide to credit card security
Find out about credit card security, including tips for using your card safely.
Credit card glossary
Explore the definitions to commonly used credit card terms.
Important information
Sainsbury's Bank Credit Cards are available to new Sainsbury's Bank Credit Card customers only. We treat all our customers and their applications for a Sainsbury's Bank Credit Card on an individual basis. The credit limit we offer and whether you are accepted are determined by the details you supply, along with an independent verification of credit and repayment history.
Credit available subject to status to UK residents aged 18 or over from Sainsbury's Bank Credit Cards, PO Box 10592, Wigston, LE18 9GZ.
Google Pay is a trademark of Google LLC.
Apple, the Apple logo, Apple Pay are trademarks of Apple Inc., registered in the U.S. and other countries