Travel money – currency converter
Check today's exchange rates using our currency calculator
Need to convert Pounds to US Dollars? Our currency converter helps you to check today's exchange rates for over 50 currencies.
Our travel money offers competitive rates on foreign currencies – and even better rates for Nectar members*.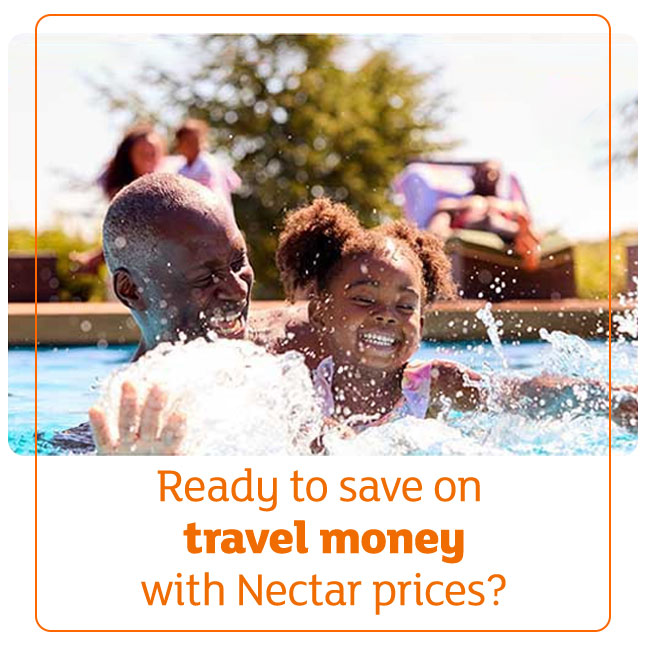 How to use our currency converter
Using our currency converter is simple:
1. Choose the currency of your destination – you'll find over 50 currencies in the dropdown box
2. Are you a Nectar member? Click Yes and get a better exchange rate, or click No and see the standard rate
3. Input the number of Pounds you'd like to exchange – the calculator will instantly convert the currency
If you're not jetting off just yet, you can check the rate each day with our currency converter.
Get our best exchange rate
As a Nectar member, you'll get even better exchange rates when you buy travel money**. Just let us know you're a member and our currency converter will update the rate automatically.
Not a Nectar member? No problem. Just download the Nectar app or register at nectar.com.

Why buy currency from us?
Better rates for Nectar members**
0% commission on all foreign currencies
Order online for collection at an instore bureau
FREE home delivery on cash orders of £400 or more*
Buy travel money in minutes with our currency converter
Your holiday spending cash is just a few clicks away:
1. Use our online currency converter at the top of the page to get best exchange rate
2. Select the currency you want to buy
3. Enter the amount of money you need, let us know if you're a Nectar member, and our currency converter will automatically update
4. Choose how you would like your travel money – whether it's in cash or on a Travel Money Card
5. Click Order now and proceed to the next page – your order value will be rounded up to the nearest available currency amount
6. Choose how you wish to receive your money – either home delivery or Click & Collect
7. Enter your personal and payment details
8. Confirm and place your order

Collection and delivery
With online orders you can collect in as little as 4 hours in store (Euro and USD and Travel Money card only). Or you can have your travel money delivered straight to your door. And if you buy Monday-Friday before 2pm online, you'll get your money the next working day* (excludes Highlands and Islands).
1. Delivery is free on orders of £400 or more
2. For orders between £100 and £399.99, the delivery fee is £4.99
3. The minimum order for home delivery is £100
Prefer to buy in person?
We have travel money bureaux in selected Sainsbury's stores across the UK where you can buy foreign currency.
Rates may vary depending on whether you buy instore, online or by phone.

We buy back leftover holiday money
Don't let leftover travel money go to waste. We buy back foreign currency to give your spare cash new life. Just take it to one of our instore bureaux and we'll buy it back from you.
We offer currency buy back for most foreign currency notes in denominations we sell (buy back rates vary daily). You'll receive your money in notes and coins in Pounds. In addition, we have coin collection boxes in our bureaux where you can deposit your foreign coins. These coins are then donated to charity, making a meaningful difference in the lives of those in need.

Prefer a Travel Money Card?
If you'd rather not travel with cash, a prepaid travel card might work better for you.
With the Sainsbury's Bank Travel Money Card, you can carry up to 15 currencies every time you travel. Simply pre-load your card and top it up when you need to.
Currency converter: Frequently asked questions
How does currency conversion work?
Currency conversion works by using the exchange rate between two currencies. For example, if the exchange rate from Pounds to US Dollars is 1.40, then £1 will buy you $1.40. Exchange rates depend on the market, so they typically fluctuate daily. Use our currency converter to check today's rates.
Will I get charged for using my debit or credit card abroad?
When you use your credit or debit card abroad, there are usually some fees involved. These fees can include currency conversion fees, foreign transaction fees, and ATM withdrawal fees, depending on your card and its terms. To avoid any unexpected charges, it's a good idea to check with your bank or card issuer beforehand to understand the fees associated with using your card overseas. This is why using a Travel Money Card can be preferable as you won't be charged any hidden fees.
Terms and conditions
*You can order currency for a secure home delivery by 1pm on the day of your choice by Royal Mail (Mon- Sat). For next day delivery your order needs to be confirmed before 2pm (Mon- Fri). Please note that whilst Royal Mail make every effort to delivery on schedule, we cannot guarantee this as it is beyond our control. Highlands and Islands (including Channel Islands) are not guaranteed next day delivery. Delivery is free on all cash orders £400 or more (£4.99 for orders between £100 and £399.99). The minimum order for home delivery is £100. The delivery day quoted is dependent on the order day being a working day; if one of those days is a public holiday then additional day(s) will be added accordingly. All home delivery orders are sent via Royal Mail Special Delivery, unless we advise you otherwise, to your billing address, and a signature will be required upon delivery. A valid telephone number is required for home delivery.
For Euro, US Dollar and Travel Money Card only:
If you selected same-day collection your order will be available 4 hours from the initial order confirmation email received or if your order was placed before 6 am then the earliest your order will be available to collect is from 10am. Please allow at least 4 hours for your order to be processed. Remember to check the bureau opening hours before collecting your order.
If you selected tomorrow or a future date your order will be ready from 10am on your chosen collection date.
For all other currencies
Your order will be available from 2pm on your chosen collection date.
Your order should be collected within 72 hours or will be subject to cancellation.
**Nectar members receive better exchange rates on single purchase transactions of all available foreign currencies. Excludes travel money card home delivery orders and online reloads. Exchange rates may vary depending on whether you buy instore, online or by phone. You need to tell us your Nectar card number at the time of your transaction.
Sainsbury's Bank Travel Money Card™ is issued by PrePay Technologies Limited pursuant to license by Mastercard International. PrePay Technologies Limited is authorised by the Financial Conduct Authority under the Electronic Money Regulations 2011 (FRN: 900010) for the issuing of electronic money and payment instruments. Mastercard is a registered trademark, and the circles design is a trademark of Mastercard International Incorporated.