The impact on the cost of fuel, car insurance and road tax
Andy Moore takes a look at the ups and downs of LPG fuel.
The year was 1994. The Channel Tunnel opened. A comet hit Jupiter. I passed my driving test and petrol cost a meagre 49p/litre!
Today it costs me £84 to fill up a 60 litre tank, and with my fuel bill continuing to rise I started to look for ways to make savings. The encouraging prospect is that LPG costs just 75p/litre. Not quite the paltry price of 1994 – but still significantly less than petrol is today.
Liquefied Petroleum Gas – what is it?
LPG is a type of fuel, a mixture of hydrocarbon gases. The end result is propane, butane, or a combination of both.
According to Calor, there are over 160,000 LPG-powered cars in the UK and that number is driving on an upward curve as rising motoring costs continue to fuel consumer demand. TheGreenCarWebsite predicts the number will rise to nearly 23 million globally by 2020.
Potential savings
TheGreenCarWebsite.com estimates that high mileage drivers can save as much as 40% on fuel costs compared with petrol, and 20% compared with diesel. The Guardian also reports that typical fuel savings for LPG-powered vehicles can be around £650 over 16,000 miles.
LPG can also help motorists reduce their carbon footprint, with C02 figures being 20% less than most petrol vehicles.
On a pence per litre basis, comparing LPG and conventional fuel, here are some typical savings:
• £45 LPG v £81 for petrol.
• £45 LPG v £84 for diesel.
How practical is LPG?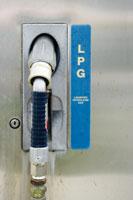 There are currently around 1,300 refuelling stations across the UK and this may grow with demand. This LPG Map shows those currently available across the country.
The comforting aspect, if there are no LPG-selling stations nearby, is that most converted vehicles are dual-fuel, so they can be switched back to run on petrol if the gas runs out when on the move.
Budgeting for an LPG car
How much will it cost? You can now buy LPG cars new but some existing vehicles can also be converted from between £1200-£1500. This is according to Autogas which has an interesting article on the steps involved.
Whether you decide to apply for a small loan or begin putting money aside, converting to LPG is likely to be an important decision and you'll want to carefully work out how much you could save. Converting your car to LPG shouldn't have an impact on your car insurance premiums and it's worth remembering that as well as saving on fuel costs, LPG-fuelled cars can also qualify for reduced road tax and congestion charges.
Thought for the road…
Looking back 18 years ago, I couldn't care less how much I saved on fuel bills. Today, with my son in the back seat and far more financial sense, I may give LPG some serious consideration for the road ahead…
By Andy Moore, Money Matters team.
This Money Matters post aims to be informative and engaging. Though it may include tips and information, it does not constitute advice and should not be used as a basis for any financial decisions. Sainsbury's Bank accepts no responsibility for the opinions and views of external contributors and the content of external websites included within this post. Some links may take you to another Sainsbury's Bank page. All information in this post was correct at date of publication.