Soaring petrol prices, global warming and damage to the environment are all forcing motorists to reassess their motoring habits...
But, as The Energy Savings Trust's 'Travel Energy Check' tool may show you, it's possible to save a great deal on Carbon emissions and fuel costs simply by changing the way you drive.
Here are our easy-to-follow tips for leaner, greener motoring.
Is your car efficient?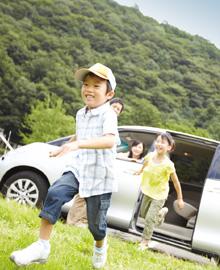 The way you look after your car has a direct impact on its efficiency and performance. Follow these pointers to help maximise your car's fuel economy:
Tyres
Under inflated tyres are dangerous, and can increase petrol consumption by up to 3%. Check your tyre pressures regularly.
Think aerodynamic
Roof bars and bike racks create wind resistance and reduces economy. Remove them if they're not in use to save fuel.
Travel light
Only take what you need on your journey. The more weight you carry, the more fuel you'll burn.
Service
A well maintained vehicle will drive more efficiently. Looking after your car will save you money and benefit the environment too.
It's how you drive
A green driver is a better driver. Reaching maximum fuel economy requires more skill than hasty, careless driving. Chances are you'll be safer, and more relaxed too, cutting back on stress as well as saving money and protecting the environment. Here are a few tips:
Don't idle
Modern car engines do not need to be brought up to temperature. If you let your car idle in the driveway, you're wasting fuel. 
If stationary in traffic for more than a minute or so, cut the engine to save fuel.
Use smart technology
Smart phones and satellite navigations tell you about traffic congestion and road works before you get caught in a jam. Plan ahead to keep your wheels turning at maximum efficiency.
Keep the revs down
Changing gear saves fuel. Shift into a higher gear when revs hit 2500 rpm (2000 rpm for diesel cars).
Think smooth
Use your green driving skills to avoid hazards. Pump the accelerator and brake pedal less to save money. This will also create less carbon dioxide. Make sure you stick to the speed limit and when driving downhill – take your foot off the gas but leave the car in gear.
Be cool
Do you really need to use the air conditioner? Wind down the window, get some fresh air, save fuel and care for the planet.
Change your car?
Smaller cars, hybrids and electric cars offer fuel-efficient alternatives. But before purchasing a new car, here's something to consider: according to the Guardian's Green Living Blog, the production of a new car produces as much CO2 as the car will emit during its entire lifetime. The higher the mileage you achieve on your old car, the better it is for the environment.
However, if you are in the market for a new car, buying an electric car ay save you the cost of road tax and petrol. When you factor this into the other costs of driving (MOTs, UK car insurance cover, repairs, etc.), it's often a wise investment.
Don't drive
Simply put, the less you drive, the better it is for your pocket, and the planet. It might seem as though there's no alternative to driving, but research by the Department for Transport shows that a fifth of all car journeys are less than one mile in length.
Do you really need the car for each journey? Walking or cycling is healthy, saves money and has zero impact on the environment. Catching the bus or train or joining a car-share scheme will also help to reduce your carbon footprint.
This Money Matters post aims to be informative and engaging. Though it may include tips and information, it does not constitute advice and should not be used as a basis for any financial decisions. Sainsbury's Bank accepts no responsibility for the opinions and views of external contributors and the content of external websites included within this post. Some links may take you to another Sainsbury's Bank page. All information in this post was correct at date of publication.