Most popular bucket list ideas and life goals
Wrapped up in the hustle and bustle of everyday life, it's easy to lose sight of what's important. Sometimes we need to pause and think 'what is my ambition in life?'
In a recent survey by Sainsbury's Bank, people were asked to share what's top of their bucket list to uncover the different ambitions in life we set for ourselves.
First, for those unsure - a bucket list is a number of experiences or achievements that a person hopes to have or accomplish during their lifetime.
We're excited to reveal the survey responses and get answers to the questions: What are the most popular bucket list items? Do our dreams change as we get older? And do people feel confident they will fulfil their bucket list? The results are in…
Making money is the top ambition in life
In our survey, people were asked to select what their top ambition in life was linked to.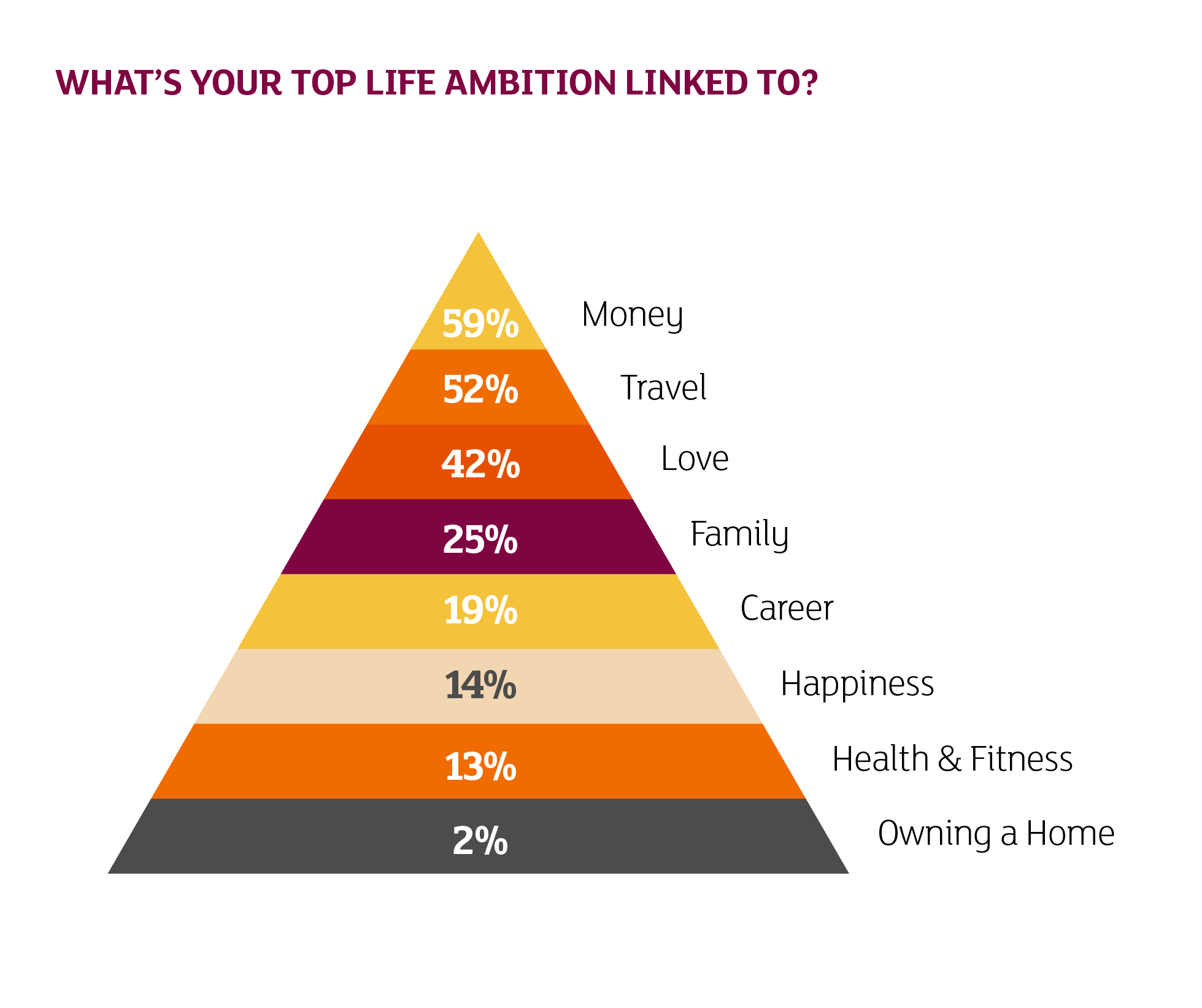 Money can't buy happiness, but it came top of the list. Nearly 60% said that money was most important to them. But what does 'money' really mean?
Having money means to feel financially secure. To ease yourself of the worry of making ends meet and paying the bills. So it's no surprise this comes top of the life goal list for most people.
Interestingly, the survey revealed that as people get older, money becomes less of a priority. In fact, for people aged 60 and above, travel was voted the top ambition in life.
Bucket list survey: Key findings
We asked men and women aged from 18 to 80. According to the survey, setting bucket lists is more popular with women and people aged between 30 and 44.
Here are our key findings, including what the most popular bucket list item is: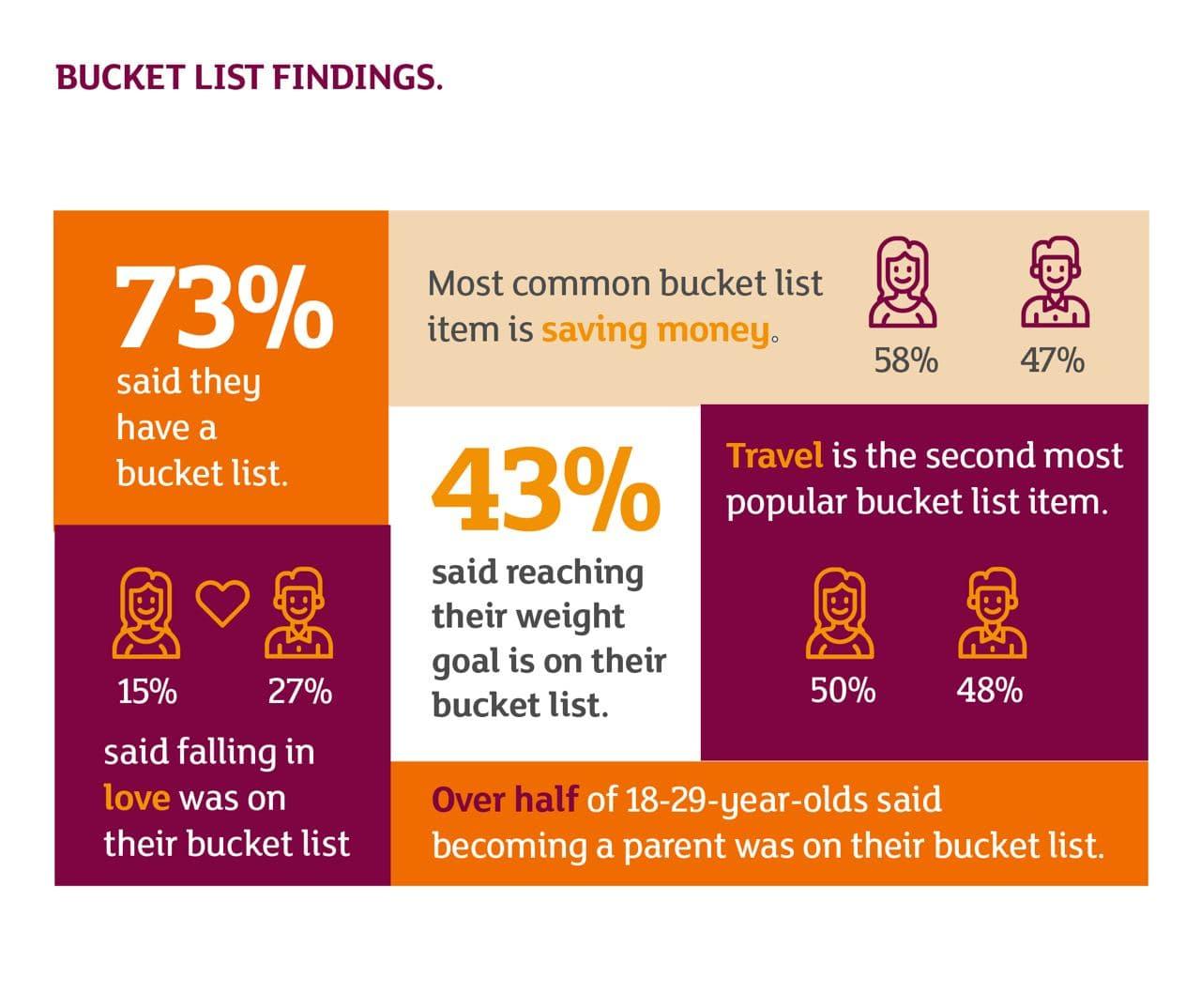 What are the top 10 bucket list items?
Check out the most common bucket list ideas and activities – it'll offer some inspiration for things to put on your own list: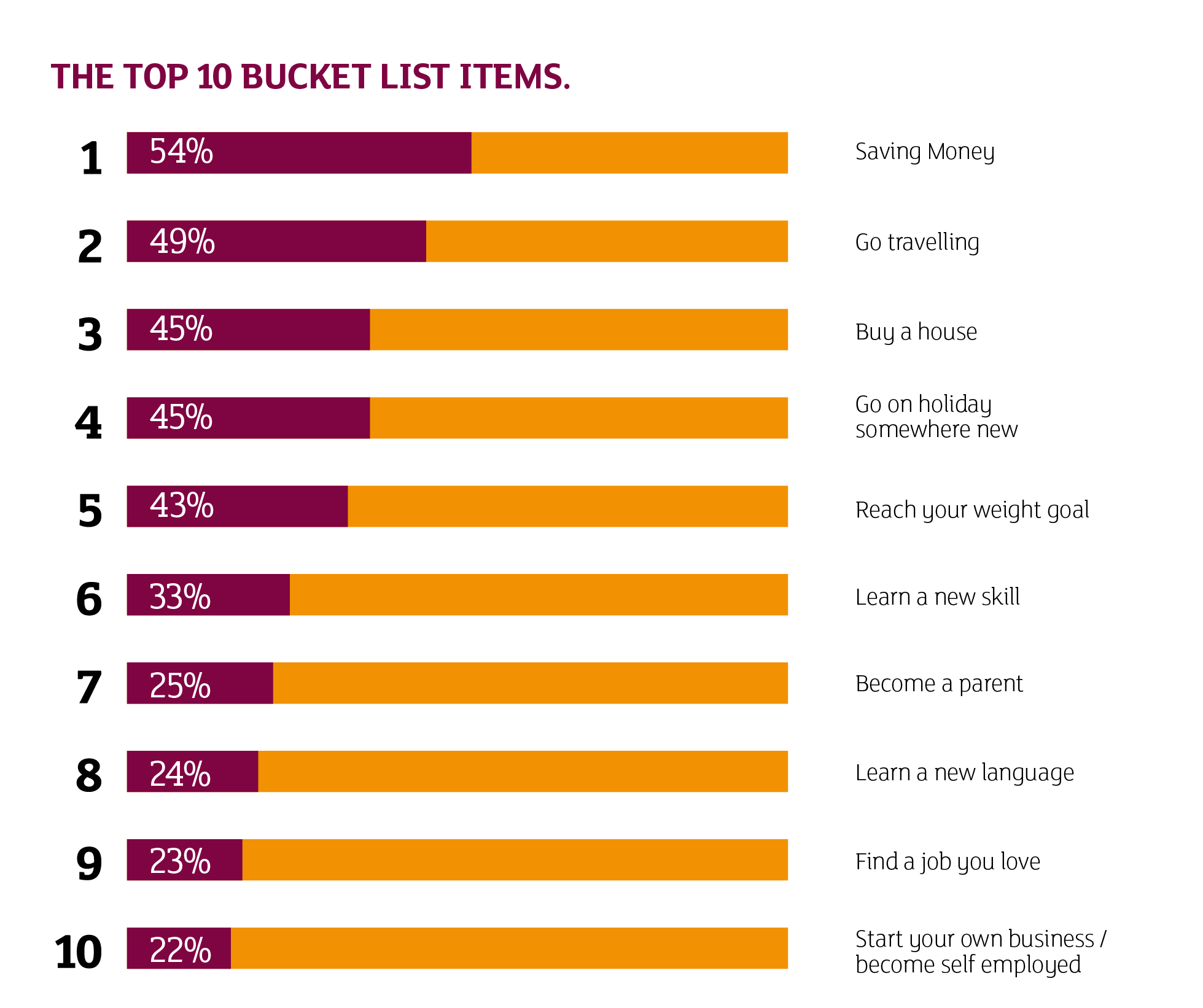 Achieving your bucket list
In the survey, people were asked whether they were confident they would achieve their bucket list. Here are the responses: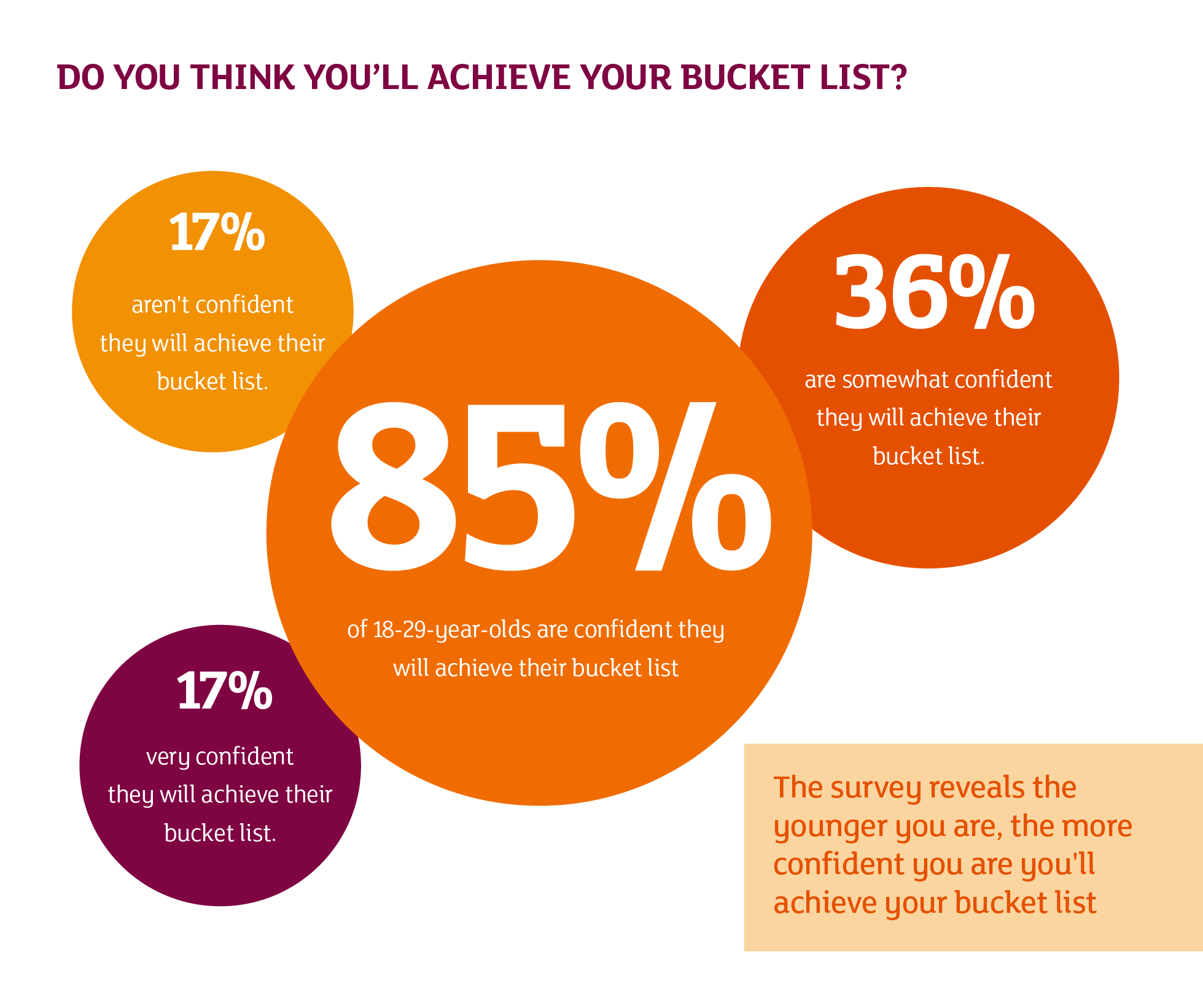 Need some pointers to keep on track of your bucket list goals? Read our tips on how to achieve your bucket list here.
Do bucket list goals change with age?
The survey found varying ambitions in life that changed with each age group.
People aged 18 to 29
Younger generations are seeking more stability-focused life goals. Examples included saving money, starting a family, buying a property and owning a car. The most popular bucket list item in this age group was buying a house. And over half say becoming a parent was on their life goal list too.
People aged 30 to 59
Over half of this age group put saving money on their bucket list. And as 30 is the most common age to have a child, it's unsurprising that money is top of the life goal list. After all, taking care of little ones comes with a hefty price tag.
Over 60s
With bucket list activities for the older generation, we start to see a pattern shift. The ambitions become more adventurous and include the type of activities you may usually have associated with younger people, such as going travelling and becoming more eco-friendly.
It's likely that when you reach 60, you may have achieved the more traditional life goals such as a successful career, starting a family or buying a house. So, with those goals accomplished, it frees up time and money to enjoy other ambitions in life. The things you maybe didn't get round to doing when you were younger.
It's all about the journey
There can be a societal pressure to tick things off your life goals list by a certain age.
Our survey reveals that over 50% of people say they set themselves life goals before they reach an age milestone. The most common responses being traditional bucket list family items such as starting a family, buying a house, owning a car or retiring at 60.
We talk to life coach, motivational speaker and author, Kirsty Hulse, who tells us it's only natural to feel societal pressure. "It's embedded within us that according to society, I should have these things by a certain age."
Kirsty encourages us to think about setting goals that we really want, not what we're conditioned to want. She continues "That word 'should', is a really nice indication that it's not coming from you. When you say 'I want to do this', 'I would love it if', 'if I could', 'I want' - those are the things that are coming from you and the things that you want."
She reminds us that bucket list and ambitions in life are all about the journey. "Goals and plans are valuable but not for the goal itself but only for the person it requires you to become along the way."
Planning ahead
Setting yourself a bucket list is a great way to feel excitement for the things that lie ahead.
However, the survey revealed that money is the most common reason why people don't feel they will achieve their bucket list. We shouldn't let that hold us back.
And, that's why it's important to plan for the future, for you and your loved ones. A life insurance policy could help you do just that. It could help to provide your family with financial protection, if the worst were to happen. Helping you feel reassured that the important things in life are taken care of. It's important to remember that life insurance policies are not savings or investment products, and have no cash value unless a valid claim is made.
*Sainsbury's Bank completed a bucket list survey with 200 respondents in November 2020.
Sources:
https://www.independent.co.uk/news/health/pregnancy-baby-thirties-live-longer-life-expectancy-coimbra-fertility-a7867901.html
This Money Matters post aims to be informative and engaging. Though it may include tips and information, it does not constitute advice and should not be used as a basis for any financial decisions. Sainsbury's Bank accepts no responsibility for the opinions and views of external contributors and the content of external websites included within this post. Some links may take you to another Sainsbury's Bank page. All information in this post was correct at date of publication.