You might have packed away your bikini months ago, but Britain's beaches can be just as beautiful in winter too. From heavenly views in the Highlands to fossil-hunting in Dorset, here are our must-visit spots for a coastal road trip – just swap the ice cream for a Thermos of tea, and off you go.
Charmouth, Dorset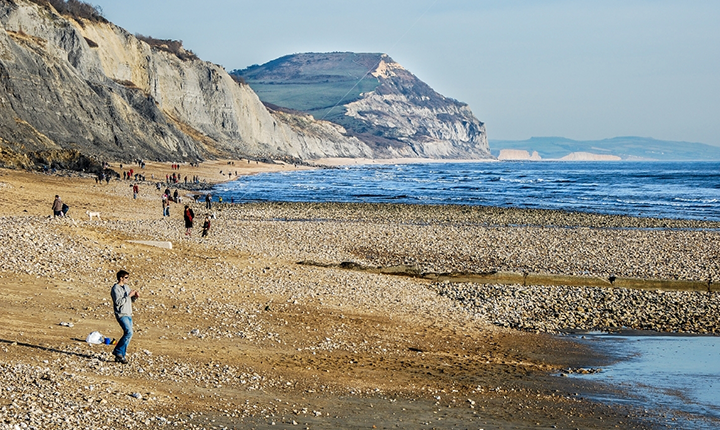 A must-visit spot for fossil hunters on Dorset's awesome Jurassic Coast, Charmouth Beach is perfect for a wintry walk. Park in one of the village's three car parks and pop into the Heritage Centre to swot up on your local knowledge, then stroll along the spectacular west beach, keeping an eye out for prehistoric loot as you go. If you time the tides right (check before you go), you could make it all the way to Lyme Regis for lunch.
Embleton Bay, Northumberland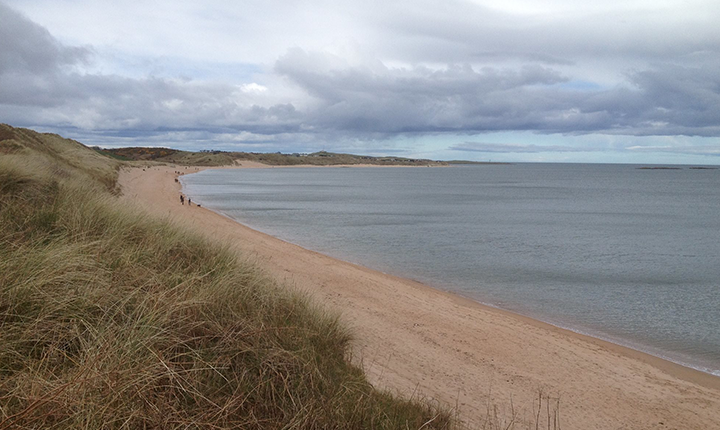 Watched over by the dramatic 14th-century ruin of Dunstanburgh Castle, this sweeping stretch of the Northumberland coastline was named Countryfile's Beach of the Year 2017 – but with miles of unspoilt, silvery sands to explore, you won't have to worry about crowds. Park at the village of Craster, 'the spiritual home of the kipper', for a slap-up breakfast to fuel your walk.
Giant's Causeway, County Antrim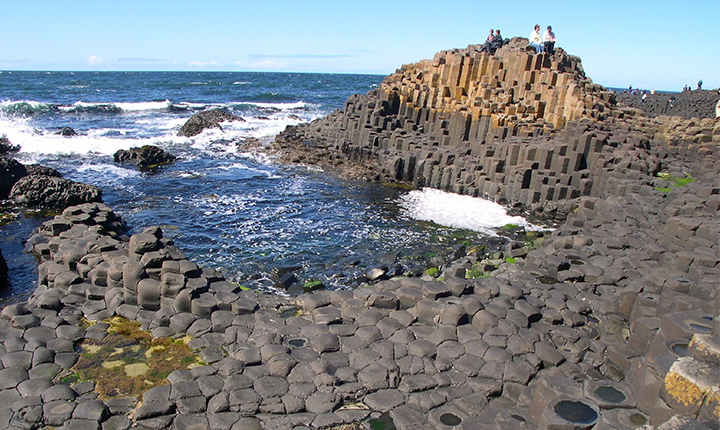 Officially the UK's most beautiful beach created by a fictional giant, this UNESCO World Heritage Site is the jewel in the crown of Northern Ireland's coastline and the perfect excuse for a road trip from Belfast. Legend has it, the breathtaking collection of over 40,000 hexagonal basalt columns was laid down by giant Fionn mac Cumhaill as part of a fight with Scottish enemy Benandonner. Whatever the truth, it's a pretty spectacular place to sit and eat your sandwiches.
Robin Hood's Bay, North Yorkshire
Step back in time with a trip to this photogenic slice of northern coastline, nestled in the North York Moors. Overlooked by brooding cliffs, Robin Hood's beach is perfect for a bracing winter walk, while the quaint, winding alleyways of the fishing village are steeped in smuggling history (parking is at the top of the village). Visit in early December for the Victorian Christmas Weekend, when things are guaranteed to get merry.
West Wittering, West Sussex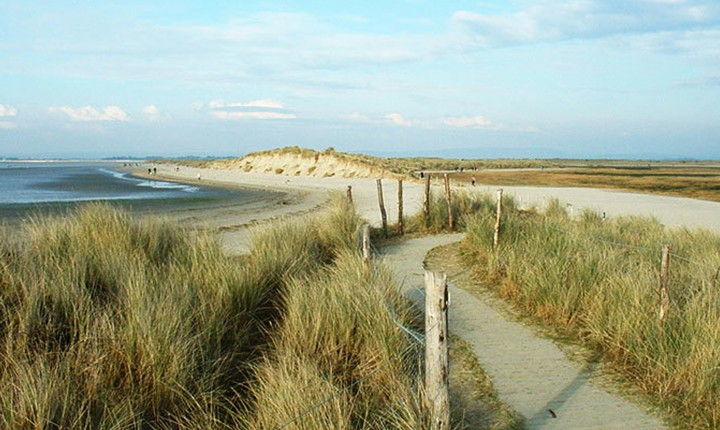 Famous as a sandy standout in pebbly Sussex (sorry Brighton, but it's true), West Wittering beach offers gorgeous windswept dunes as far as the eye can see. It's predictably rammed in summer but winter is the perfect time to visit, when the light conditions make it a photographer's dream. And even better, there's a huge car park just 100m from the beach, so you can peg it back to safety if the weather changes.
Rhossili Bay, Swansea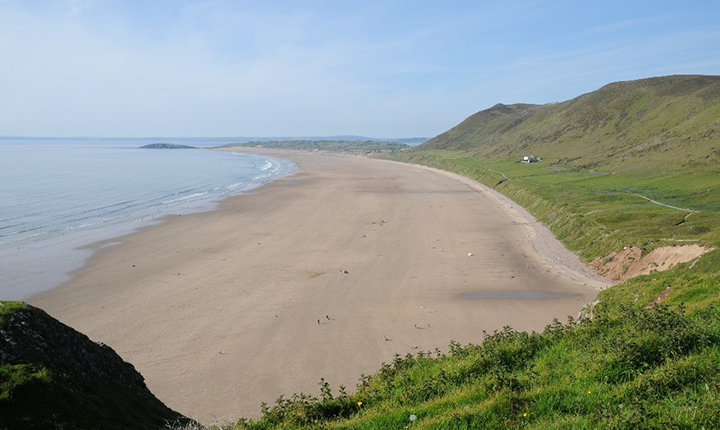 Recently named the best beach in Europe by Suitcase magazine, Rhossili Bay is certifiably lush. Take in the three miles of golden sand and spectacular clifftop views, then visit the Worm's Head, the most westerly tip of the Gower Peninsula, which is only exposed by the tide for couple of hours at a time (so check the tides before you venture out). Plus, with a newly improved car park and free electric vehicle charge point, it's ideal for those of us without wings too.
Sandwood Bay, North Highlands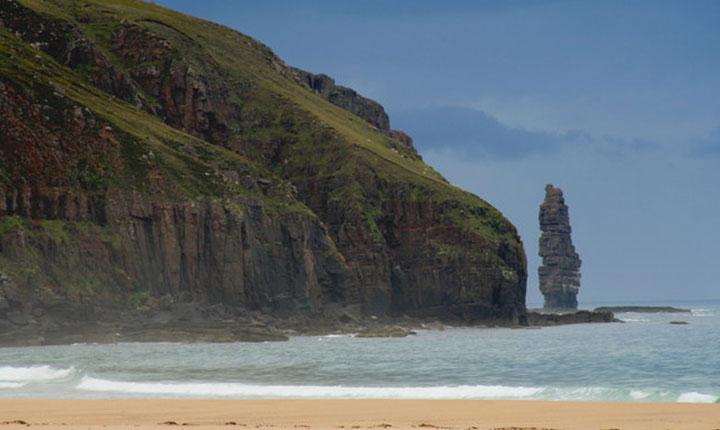 One of the most beautiful beaches in the UK, Sandwood Bay is famous for it's pinky-hued sand and high cliffs and sand dunes which make for a picturesque winter walking spot. You'll want to wrap up warm as the beach faces straight into the North Atlantic. It's very remote – which is part of its appeal – and can't be accessed by car. Luckily, there's a gorgeous four-mile flat path from the car park at the hamlet of Blairmore.
Kynance Cove, Cornwall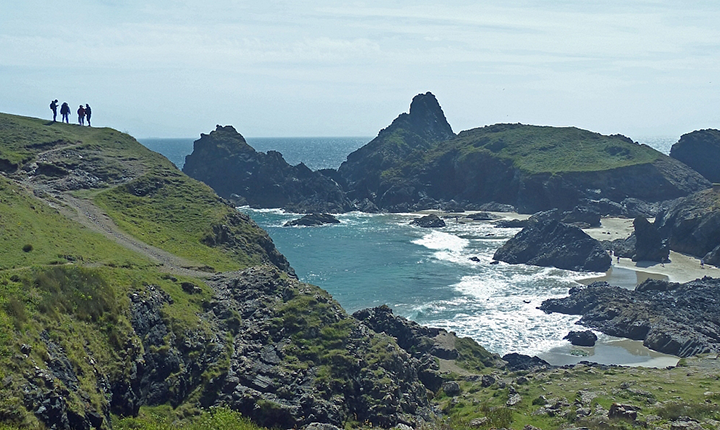 Poldark fans will recognise this gorgeously craggy part of the Lizard Peninsula, which claims to be the most painted and photographed in Cornwall. In the summer tourists flock to enjoy the white sand and turquoise waters, but winter is the clever time to visit – the beach's seasonal dog ban is lifted after 30 September, and the car park is free between November and Easter. Save the cash for a hot chocolate to thaw out your fingers.
Is your car ready for winter?
Cold, damp weather is kryptonite for a car battery, so have yours tested by a specialist – and replaced if needed – before those frosty mornings really kick in.
Check your antifreeze with (what else?) an antifreeze tester, which will let you know if yours needs replacing.
Dirt and grime can quickly reduce your lights' visibility, so give them a clean – and pack some spare bulbs in the boot, just in case.
If you often drive in icy conditions, think about investing in a set of winter tyres. And if not, check that your tread depth is well above the legal limit of 1.6mm.
Top up your screenwash. You'll need it to prevent griming up your windows on those drizzly days.
Assemble your emergency kit, just in case! A blanket, a torch, a tow-rope, a de-icer, a phone charger, first aid kit and some snacks could all come in very handy one day.
This Money Matters post aims to be informative and engaging. Though it may include tips and information, it does not constitute advice and should not be used as a basis for any financial decisions. Sainsbury's Bank accepts no responsibility for the opinions and views of external contributors and the content of external websites included within this post. Some links may take you to another Sainsbury's Bank page. All information in this post was correct at date of publication.