A great way to pay
Add your Sainsbury's Bank Credit Card to your Apple Wallet or Google Pay for easy and secure payments, without the contactless limit ♢♢.
It's simple to set up with our app and you can pay with your phone wherever you see the contactless symbol.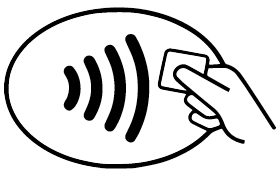 ♢♢ Apple, the Apple log and Apple Pay are trademarks of Apple Inc., registered in the U.S. and other countries. You can view a list of compatible Apple Pay devices on the Apple Support website.
Google Pay and the Google Pay logo are trademarks of Google LLC. Google Pay works on Android devices running Android 5.0 (Lollipop) or higher which support NFC or HCE.