We've created a list of money saving ideas for festive family fun.
The Christmas season is fun and festive, but it doesn't have to cost a fortune, there are ways families can save, and everyone can play their part.
Footloose and free festive
Instead of getting drawn into expensive family outings such as trips to a restaurant or cinema, take advantage of free events such as Carol Services, festive light ceremonies and Santa's grottos

There are dozens of free or low cost places you and your family can visit over the festive period, including country parks, museums, city farms, woodland walks or one of the many twinkling Christmas trees that appear all over the country at this time of year. Some are free and others may require a small donation, but it's all part of the Christmas spirit. Visiting such venues is also a good way to get your family immersed in culture and history
Hyde Park's famous Winter Wonderland promises seasonal food as well as Christmas gifts and Cabaret performances
North of the border, the Glasgow Loves Christmas website features a number of festive events and activities to get involved in; likewise, Edinburgh's Christmas 2012 is a hub of activity, with the spectacular light night
Make your own decorations - an old family favourite
On winter walks collect pine cones of varying size, bring them home and spray or brush paint them with decorative colour and glitter. They can make pretty decorations and are equally attractive dangling on Christmas trees
Rather than buy a bumper pack of Christmas cards every year, which are not always used, why not ask your family to make cards to meet demand and personalise them. What's needed? Paper, pens, glitter and a few family photos. Oh and lots of laughter as well!
Home-made drinks
There is a wide range of drinks we can make at home with the family to save money compared with buying in beverages.
Juices, alcohol-free punches and smoothies can be made from pieces of fruit and kept for several days if they are refrigerated. Home made soft drinks are also a good way to teach kids the health benefits of drinks without artificial flavours and colours
Hot drinks. How much money can we spend on expensive teas and coffees such as lattes and cappuccinos when out Christmas shopping? Why not grind your own coffee beans and brew your own tea to quench the thirst of you and your family while you're busy. Take a flask out into the cold winter weather to keep you going
Home-made pressies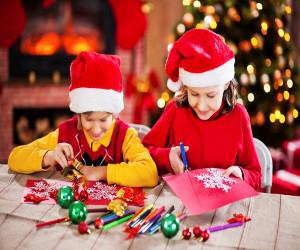 A cost effective alternative to buying expensive presents is encouraging your family to make their own.
One exciting way of doing this is to get everyone to make a present for each other, and then run a kind of Secret Santa. Each person by age and gender receives their allotted Christmas present made by a family member. Typical present ideas include a homemade food hamper filled with yummy homemade Christmas treats
Baking a batch of biscuits or gingerbread is quick to do and should be appreciated, especially by the younger family members
Photo calendar. A nice way to round off the year's events is to get everyone to participate in making a calendar for the New Year with different photos of family members for every month. How about a photo of the family sledging last January or on the beach during the summer school holidays?
This Money Matters post aims to be informative and engaging. Though it may include tips and information, it does not constitute advice and should not be used as a basis for any financial decisions. Sainsbury's Bank accepts no responsibility for the opinions and views of external contributors and the content of external websites included within this post. Some links may take you to another Sainsbury's Bank page. All information in this post was correct at date of publication.