You may have seen the image of the hand-made bird house key hooks being used across our website and in our home insurance leaflets in-store.
This one.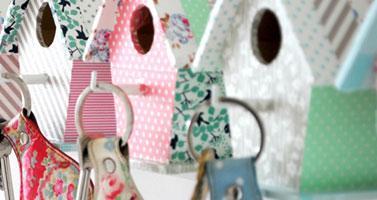 The blogger who designed and created these beautiful bird house key hooks contacted us via our Facebook community and kindly offered to show us how to make them.
So if you'd like to make your own, you can find out how in Torie's tutorial.
When the home insurance team saw the tutorial, they couldn't resist having a go themselves. We set off home to get to work. Here's our pictures.

Product Team

eCommerce Team

Social Team

eCommerce Team

Marketing Team

Blog Team
If you do create your own, make sure to share your own pictures with us via our Facebook page.
And thanks to the home insurance team for the pictures. To see more of their work visit our guides section where you'll find information on home security, energy efficiency and tips for students.
This Money Matters post aims to be informative and engaging. Though it may include tips and information, it does not constitute advice and should not be used as a basis for any financial decisions. Sainsbury's Bank accepts no responsibility for the opinions and views of external contributors and the content of external websites included within this post. Some links may take you to another Sainsbury's Bank page. All information in this post was correct at date of publication.