So you're getting married? Congratulations! And you're thinking of doing it abroad? Well, you're in good company – it's estimated that 1 in 6 weddings now take place outside of the UK. And with the rise of picture-perfect nuptials plastered all over Instagram and Pinterest, it's easy to see why couples might be lured by the backdrop of an exotic Caribbean beach, a French chateau or even the neon strip of Las Vegas.
But while a wedding abroad can be a great idea, it can mean extra wedmin to wade through to make your big day perfect. However, if you're organised and can start planning early on, it shouldn't be too stressful. Here's our guide to help you create the best destination wedding of all time.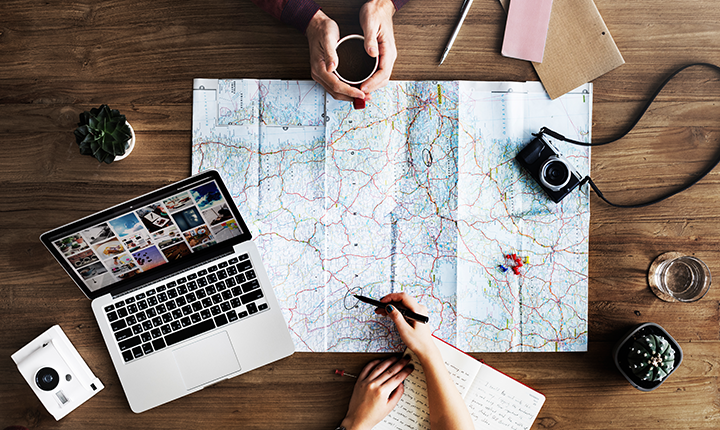 Decide on the location
The current hot spots for weddings abroad include Jamaica, Dubai, St Lucia, New York and Ibiza – but it's all about picking a location that means something to you and your partner. Perhaps you had a great holiday somewhere in the past or it's a place you've always wanted to visit? Maybe you have a family connection there or perhaps you just want to jet off somewhere where there's guaranteed good weather? Whatever the reason, it can be great fun pulling out a map and deciding where to hold the wedding. Just make sure to avoid peak holiday times like Christmas, Easter and the school holidays, unless you've got an expansive budget.
Find out the marriage requirements and laws for your destination of choice
Here's the legal bit that we can't stress enough – each country (and even each state in America) will have its own laws about a legally binding wedding, and most of them centre around the residency laws. This is how long you need to be in the country before you can officially wed, as most places will require a public notice announcing the wedding. In France, it's 40 days, while in Jamaica, Antigua or Cuba, it's more like two or three days. In Las Vegas, there's no waiting time at all. Most countries will also ask for a CNI – a Certificate of No Impediment, which confirms you are single – and don't forget your birth certificate and that your passport will need to be in date for six months after the wedding. Check out the Government's comprehensive website on what's legally needed for each country and contact the relevant national embassy to confirm too.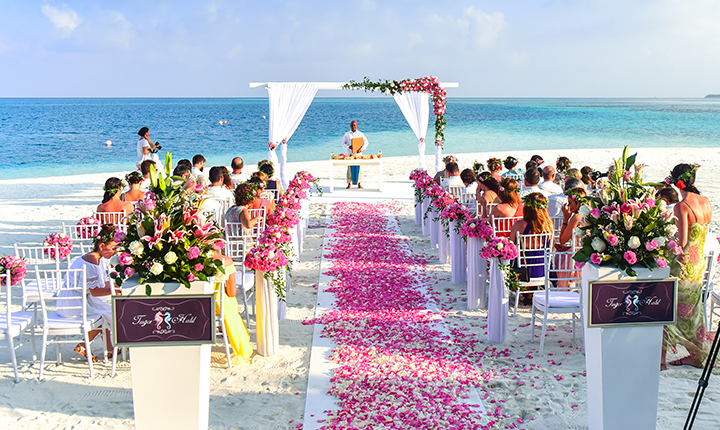 Choose a venue
If you've ever watched Don't Tell the Bride, you'll know not every venue is actually licensed to hold weddings within them. So although you might want to get hitched in a mountain-top cabin or a sprawling beach resort, you might have to actually say 'I do' in a registry office first.
Next, you'll want to know if you can hold both the ceremony and reception there, what the guest capacity is, if food and drink are included, what the deposit will be and – in case of an emergency – what the cancellation policy is. If you can, visit the venue in person, or make sure to cross reference lots of reviews. You might want to contact people who have previously had a wedding there to get their honest feedback.
Consider a wedding planner
You'll pay a premium to delegate the work to a wedding planner, but it will take the pressure off you and they will be better equipped to negotiate with suppliers if you don't speak the language. Ask if the venue has a regular planner they use, or if they can recommend one – check if they will be able to translate documents, or you might need to hire a translator, too.
Draw up a budget breakdown
Spreadsheets are a necessary evil when it comes to weddings. As you'll already have a rough figure in mind as to what you can spend – and an average wedding abroad will cost between £8,000-15,000 – now's the time to cost it all up. And for those inevitable money transfers? You can rely on Sainsbury's Bank's new International Money Transfer service.
Confirm the wedding – and get wedding insurance
Once you've put down the deposit on a wedding venue, you'll need to get wedding insurance. No, it's not going to jinx your big day and chances are you won't need to use it, but the security of knowing you're covered if something unexpected happens is so worth it. Now, send out those save the date cards.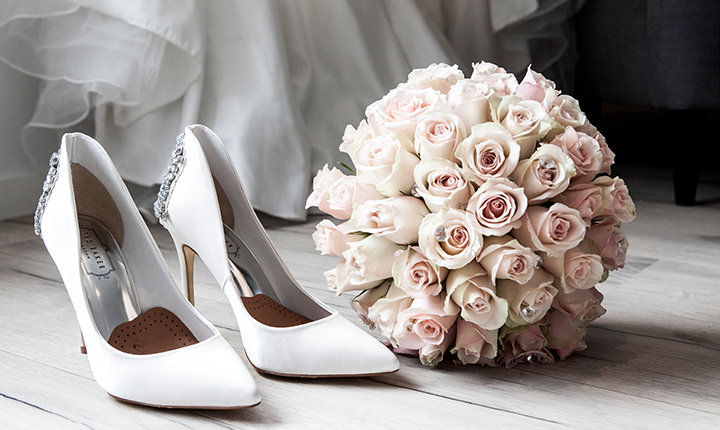 Dress, rings, flowers and food – all the fun stuff
Now all the serious stuff is confirmed, it's time to splash the cash on the fun stuff. Make sure to liaise with the wedding party if you've chosen a colour or theme, make sure it will work in hot (or cold) weather for the bridal gown, bridesmaids dresses, groom and ushers' suits. Think about using the local cuisine as an inspiration for the menu, same goes for flowers and drinks. As for a honeymoon, you can save money by holidaying in the same country as the wedding.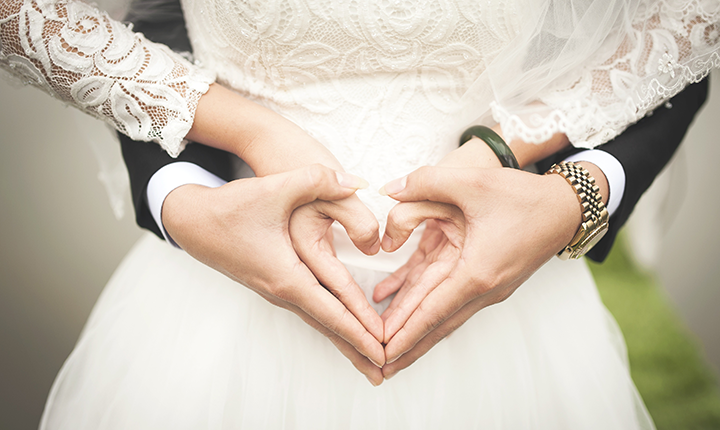 Don't forget the small things – finalise everything before jetting off
Because you've been super-organised with your spreadsheets, there shouldn't be any major issues, but there are a few final things that might slip off your to-do list. Check in with all your suppliers and be sure you have written confirmation from them too. Make sure you have travel insurance for your honeymoon and you've had any vaccinations, if needed, for the chosen country. Label all your luggage clearly and check with the airline what their policy is on carrying wedding dresses as hand luggage – don't put it in the hold, in case it gets lost in transit. Bring a handheld steamer to get rid of any last minute creasing on the wedding party's clothes. Double and triple check who has the rings and of course, don't forget your passport.
Now all that's left to do is say "I do", toast your amazing destination wedding and enjoy married life!
Want to learn more about what we can do to help you when sending large sums of money overseas? Check out our International Money Transfer site right here.
This Money Matters post aims to be informative and engaging. Though it may include tips and information, it does not constitute advice and should not be used as a basis for any financial decisions. Sainsbury's Bank accepts no responsibility for the opinions and views of external contributors and the content of external websites included within this post. Some links may take you to another Sainsbury's Bank page. All information in this post was correct at date of publication.