Border Collie dog breed information and advice
In this dog breed guide, you'll find all the information and facts you need about the Border Collie. This includes their personality, behaviour and lifespan. You'll also pick up tips on training, grooming and feeding your dog.
There are many Border Collie colours, the most common being the black and tricolour. The rarest is the blue merle. And the colour of your dog will affect the price you pay for a Border Collie puppy.
The Border Collie was bred for herding. They're an obedient and intelligent breed, so are easy to train. They need lots of exercise and are best suited to rural living. Despite being a working dog, they have an affectionate temperament and will be very loyal to you.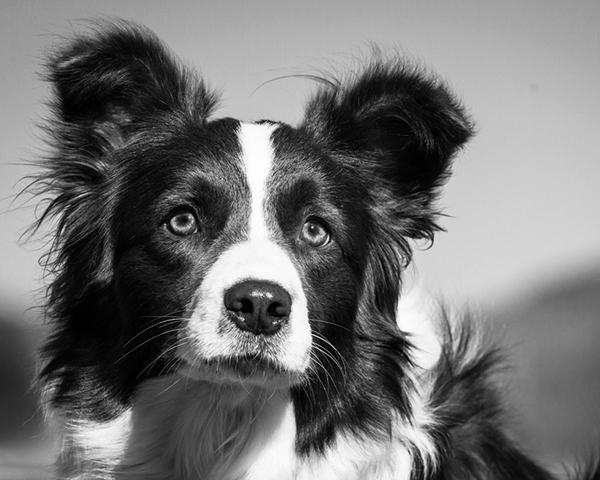 | | |
| --- | --- |
| Lifespan | 10 - 17 years |
| How much | £500 - £3,500 |
| Size | 48 - 56 cm |
| Weight | 12 - 20 kg |
| Colours | white with any of the following colours: black, white, lilac, brindle, liver, brown, red merle, sable merle, gold, red or tricolour |
| Grooming | weekly brushing |
| Temperament | energetic and intelligent |
| Exercise | they're very energetic, so at least an hour or more every day |
Border Collie insurance
Make sure your dog is protected from health problems and injuries. It's important to have dog insurance for working breeds, as their energetic nature may lead to accidents. Border Collie dog insurance helps to cover the costs of treatment, medication and surgery for dogs of all ages.
Sainsbury's Bank Pet Insurance
Health issues can happen at a young age, so it's a good idea to take out pet insurance as soon as possible. It'll give you the peace of mind of knowing any vet bills could be covered. Sainsbury's Bank puppy insurance can be taken out as soon as your pet is 8 weeks old, right up until their 8th birthday. And once you have cover in place, we'll insure your Border Collie for their entire life - as long as you renew your policy year after year. Giving you one less thing to think about.
How to care for a Border Collie
Border Collies are one of the most active dog breeds. This means their dietary and exercise needs are much more demanding.
Feeding and nutrition
It's very important to keep an eye on your Border Collie's weight. An adult dog should weigh between 12 and 20 kg. This depends on their size, which will be between 48 and 56 cm. Usually, male dogs are bigger and weigh more than females.
Active dogs need to eat more food, so they don't become underweight. Food measurement guidelines and nutrient content can be found on the back of the dog food packaging. You can ask your vet if you're unsure of how much to feed them and what's the best diet for your dog.
Feed your dog once or twice a day, or three or four times a day if you've got a puppy. Border Collies should be fed at least 2 hours before exercise. If not, their stomach can swell and twist. This can cause life-threatening blockages and will require surgery.
Grooming
Collies can have either a short and sleek coat or a long and coarse coat. Both types normally need brushing once a week. However, during spring and autumn when they shed a lot, you'll need to brush them more often. This will collect their falling fur and help keep your home and furniture free from dog hairs.
Exercise
Border Collies are a very active breed and need at least an hour of exercise a day. They should be walked off lead so that they have the chance to run around. They're obedient so with the right training they will come back when you call.
They love to play fetch and will often bring you something to throw. Playing games is a great way to add extra exercise to their day and burn off excess energy.
Training
Border Collies are used for sheep herding because they're obedient and easy to train. They're great at agility and flyball. Use a ball or treats as rewards during your training sessions.
Working dogs are usually kept in an outside kennel. This means they're able to go to the toilet when they want. If your dog is living indoors, it is important to start house training your dog from a young age. Luckily, puppy toilet training is easy, and your dog will pick it up quickly.

Temperament and behaviour
This breed is very affectionate, eager to please, gentle and good with children. Though despite being good-natured and obedient, Border Collies tend to have predatory instincts that can make them a difficult pet. They need to be kept entertained with plenty of exercise and toys or they can become destructive.
You may find at times their natural instincts will kick in and you'll find them trying to herd people or other dogs. They can become snappy if other dogs challenge them. Training and exercise can help to stop this.
Common health problems
There are common health issues that can affect your Border Collie. Make sure you are aware of what signs to look for so any health care problems can be treated quickly. Remember, having Border Collie insurance can help reduce the stress of unexpected health bills.
Collie eye anomaly (CEA)
CEA is a hereditary disorder that is present from birth. It causes holes in layers of the eye that affect your pet's vision. First signs can be detected in puppies between 5 and 8 weeks old. But in most cases, it goes undetected until signs of vision loss in later life.
The disorder can lead to blindness in both eyes if the holes continue to appear, but some dogs don't develop any further holes. This means that they'll have some vision loss but will still be able to see.
Diagnosis is difficult, and there is no treatment for this disorder. However, dogs with vision loss can still lead happy lives.
Hip dysplasia
This condition affects the ball-and-socket hip joint. The joint surfaces rub together instead of sliding smoothly into place. It's a hereditary disease but can also be caused by diet and exercise. Overweight dogs are more likely to suffer from the condition.
If your dog has hip dysplasia, it will become lame on the affected leg. Hip replacement surgery may be needed if the condition is severe. This is complex and expensive. If surgery is not required, your vet will give your dog pain relief and anti-inflammatory drugs. These will need to be taken for the rest of your pet's life.
Hip dysplasia will lead to arthritis in the hip joints in later life. Your dog's joints will become stiff and movement will be painful. But with medication, most animals still live a good quality of life.
Trapped neutrophil syndrome (TNS)
TNS is an inherited condition that stops white blood cells from being released into the bloodstream. This causes a weakened immune system. It usually appears when puppies are around 11 and 12 weeks of age.
Dogs with this condition will have delayed development, fever and at least one swollen joint. They'll also have noticeable facial differences, with narrowed 'ferret-like' features. Diarrhoea is also common.
Fluid therapy treatment has proven to help with symptoms, but in most cases, the dog will need to be put to sleep. Thankfully it is not a common condition. Reputable breeders will carry out DNA testing for the condition before breeding. Always ask your breeder about this testing before buying your puppy.

How long do Border Collies live?
The average life span for the Border Collie is 10-17 years. Common health problems linked to Border Collies can reduce life expectancy. But most conditions won't affect the quality of your dog's life. Make sure you feed your dog the correct diet and give them lots of exercise to keep them fit and healthy.
Do Border Collies shed?
Yes, they shed a lot, more so during spring and autumn. This is the case for both rough and smooth coats. You'll need to brush your Border Collie regularly to remove some of the fur. The more that you brush out, the less you'll find on your floor.
How to train a Border Collie
Border Collies are known for being working dogs and were bred for herding sheep. This makes them easy to train as they're naturally obedient. Use a toy or food treats as a reward during training to make it fun for your dog. Training is also a good way to use up some of their boundless energy and to challenge them mentally.
When do Border Collies calm down?
They're known for being energetic dogs, but will calm down if they're kept entertained. Give them the chance to run around as often as possible – and when this isn't possible, give them toys to play with. Interactive toys that reward them with treats work best. Agility and flyball are a great way to exercise your dog, and Border Collies seem to love both. Remember, if their energy isn't used, Border Collies can become hyperactive and destructive.
So, is a Border Collie right for you?
Full of energy with lots of love to give, the Border Collie is the perfect breed if you live an active lifestyle. They'll happily join you for a long run and will show you lots of affection. But they can be a demanding dog breed due to their energetic and working instincts. For this reason, a Border Collie probably wouldn't suit a first-time owner or someone who doesn't have the time to meet their needs.
Browse our guides
Choose from our list of helpful guides and information
Explore dog breeds
Find out how to keep your dog healthy and happy
Cat breed guides
How to care for your cat, common health problems and more
References
Content provided from Vetstream's Vetlexicon
Vetstream ltd (online) Border Collie. In: Vetlexicon Canis. Vetstream Ltd, UK. Website: https://vetstream.com/treat/canis/breeds-pages/border-collie
Harari J & Langley-Hobbs S (online) Periodontal disease. In: Vetlexicon Canis. Vetstream Ltd, UK. Website: https://vetstream.com/treat/canis/diseases/hip-dysplasia
Vetstream Ltd (online) Hip dysplasia Owner Factsheet. In: Vetlexicon Canis. Vetstream Ltd, UK. Website: https://vetstream.com/clinical-reference/canis/owner-factsheets/hip-dysplasia
Brooks D E & Oliver J (online) Collie eye anomaly. In: Vetlexicon Canis. Vetstream Ltd, UK. Website: https://vetstream.com/treat/canis/diseases/collie-eye-anomaly
Batchelor D & Tappin S (online) Collie eye anomaly. In: Vetlexicon Canis. Vetstream Ltd, UK. Website: https://vetstream.com/treat/canis/diseases/trapped-neutrophil-syndrome
Terms and conditions
Important information
Sainsbury's Bank plc, Registered Office, 33 Holborn, London EC1N 2HT (registered in England and Wales, no. 3279730) is authorised by the Prudential Regulation Authority and regulated by the Financial Conduct Authority and the Prudential Regulation Authority (register no. 184514). Sainsbury's Supermarkets Ltd is an appointed representative of Sainsbury's Bank plc.
Sainsbury's Bank plc acts as an introducer to Pinnacle Insurance plc who is authorised by the Prudential Regulation Authority and regulated by the Financial Conduct Authority and the Prudential Regulation Authority (register number 110866). Registered Office: Pinnacle House, A1 Barnet Way, Borehamwood, Hertfordshire, WD6 2XX. Sainsbury's Bank plc and Pinnacle Insurance plc are not part of the same corporate group.