Tips for Buying a Used Car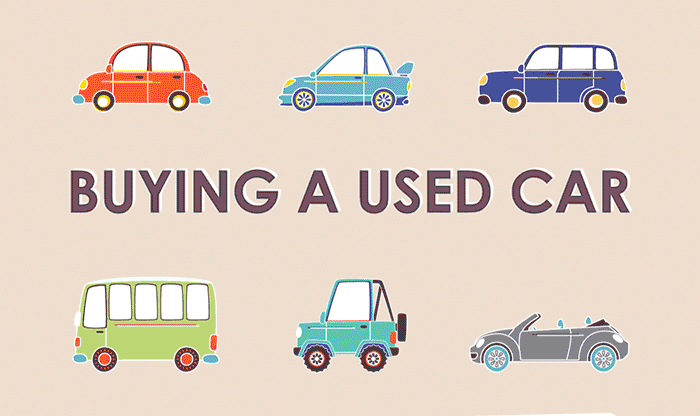 If you're on the market for some new wheels, you'll soon come to realise that buying a car will cost a pretty penny. As well as forking out for a car, you also need to think about car insurance and road tax. That's all before you use the car. You also need to think about general on-going maintenance and fuel costs.
Once you've priced up how much it'll cost, you might realise buying a brand-new car is out of the question. If that's the case for you, remember that new cars depreciate up to 40% within their first year, so aren't always good value for money.
Knowing this might turn your attention to the pros and cons of buying a used car. Going for a second-hand car might also mean that you get your hands on the make and model you want, but for a more affordable price.
So, what exactly should you look for if buying a car from a previous owner? Let's take a look.
What to look for when buying a used car
When buying a brand-new car from a dealership's forecourt, you won't have to worry about any existing engine or paintwork issues. Your focus will be firmly on making sure that the car ticks the boxes in how it looks, meets your requirements and budget.
When it comes to a second-hand vehicle, there's a lot more at stake. You don't want to inherit any historical problems the vehicle might have had. You'll also want to make sure it's in good enough health to last longer than just your journey home the day you buy it.
Here's some key things to keep in mind:
Used diesel cars vs second hand electric cars
The starting point for many buyers will be to decide which type of car and fuel they want to operate with. With this in mind, you should know that in a bid to meet zero-emissions targets, under current plans petrol and diesel cars will be banned from being sold in the UK by 2030 (brought forward from 2040).
This is less than ten years away, so you may want to consider a second-hand electric car or a hybrid vehicle. Hybrids have a greater range than a fully electric vehicle and are also cheaper to run than conventional cars. Electric vehicles do however have zero emissions and no vehicle tax.
If you are planning to stay with a petrol or diesel car for now, consider that while diesel can be economical, petrol can be cheaper to buy at the pump.
So there's lots to consider. Keep in mind exactly why you want a car and how you'll be using it. That'll help to ensure the car you pick will meet your expectations.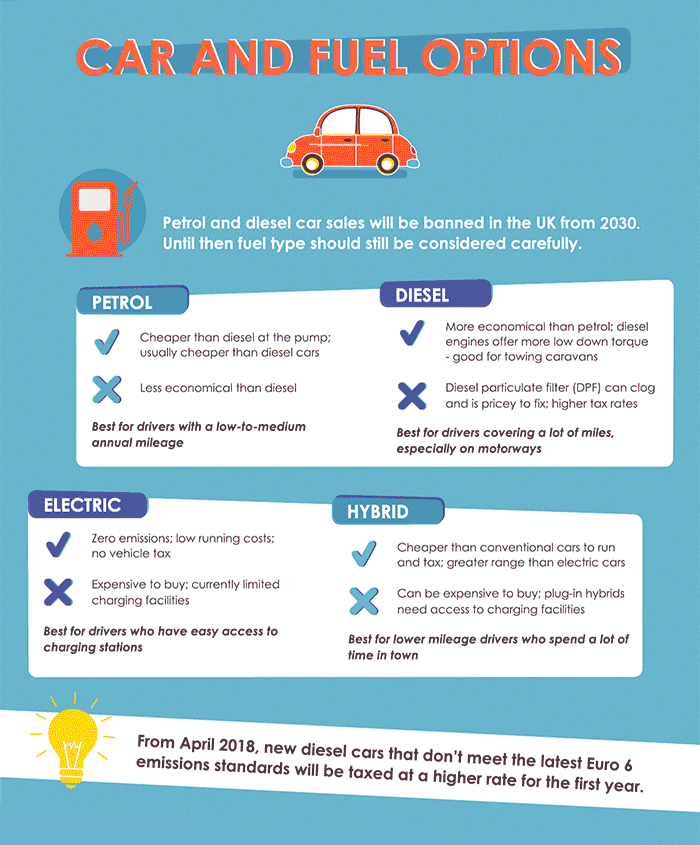 Where to buy used cars
With a range of places to pick-up a used vehicle, you might not know whether buying a used car from a dealer, privately or online is best. A good starting point is to have a search on reputable car selling websites. This will give you a chance to see the breadth of cars on offer all in one place that meet both your budget and lifestyle requirements.
You'll find that car dealerships will sell their cars via car selling sites, as well as private sellers.
Live and online used car auctions provide alternative avenues for exploring second-hand cars.
With both car dealerships and private sellers, you will have a chance to test drive a car. With auctions you won't. Before test driving a used car be sure to check with your current insurance provider that you have the right cover to do so. It's best to take your insurance documents with you on the day of test driving as evidence that you're covered.
Car auctions are known for selling vehicles at good prices. You may, however, only be able to see pictures of the car or been able to have a quick look at it before an auction begins. Keep in mind that this might not help to tell the whole story of the car and its history.
Should you have an issue with the car that you purchase, it's worth knowing that you'll have the best cover under The Consumer Rights Act if you buy from a dealership.
Never feel pressured into buying a car from a seller. If it doesn't feel right, then it's always best to step away to think about your decision. Remember, there will always be other cars.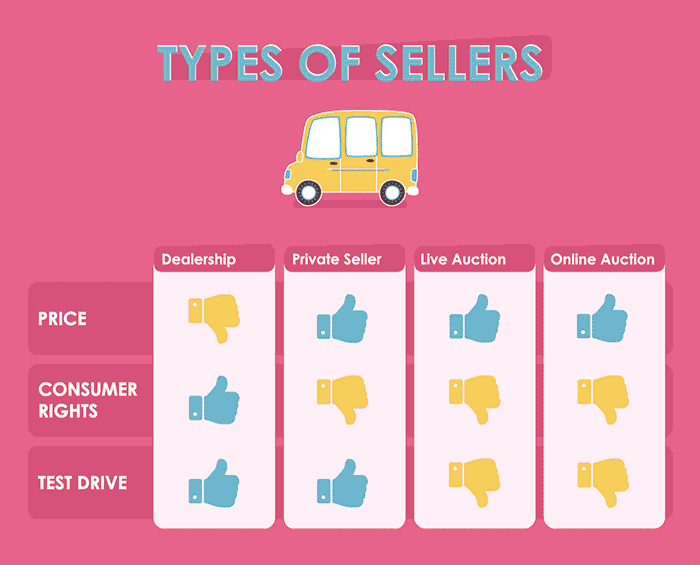 How to check the quality of a used car
One thing you'll want to avoid is buying a second-hand car at night as you may miss vital signs of damage that you will otherwise see in the daylight.
You'll want to check that there's no scrapes, bumps or chipped paint. You'll also want to have a look under the hood of the engine. If you're unsure of exactly what you're looking for, it's always worth taking a friend who knows more about cars with you to look at a vehicle. That way, they can advise you of any questions to ask the dealership or current owner, before buying a used-car.
Another element to consider is if the car has suffered structural damage or been written-off at any point. This could affect the lifespan of the vehicle or result in you inheriting an on-going issue. If in doubt and if you aren't experienced in what you should be looking for, you can arrange a vehicle inspection with a reputable garage or mechanic.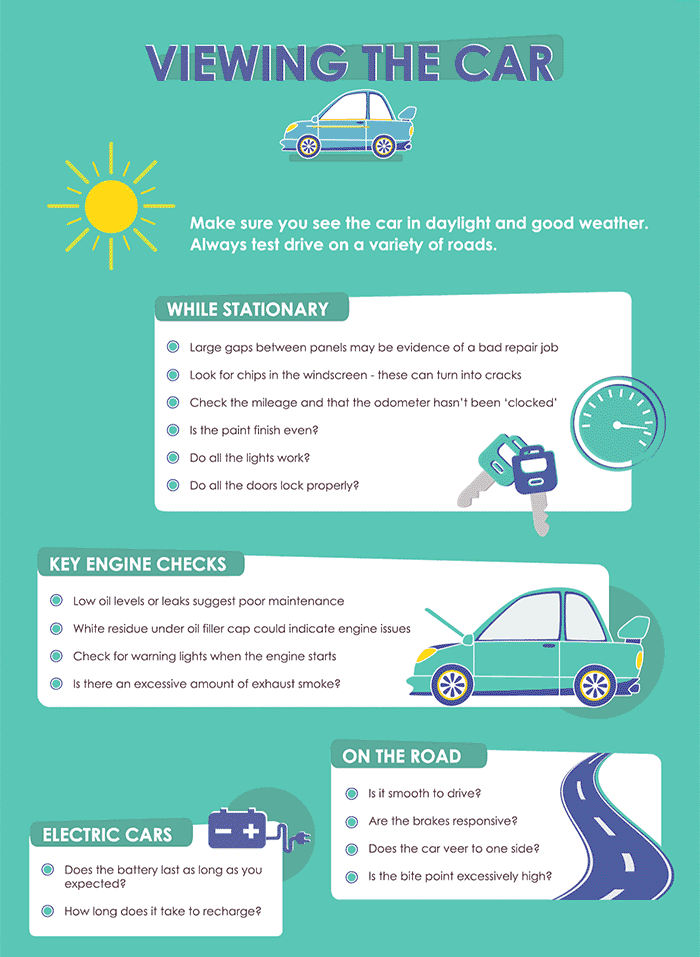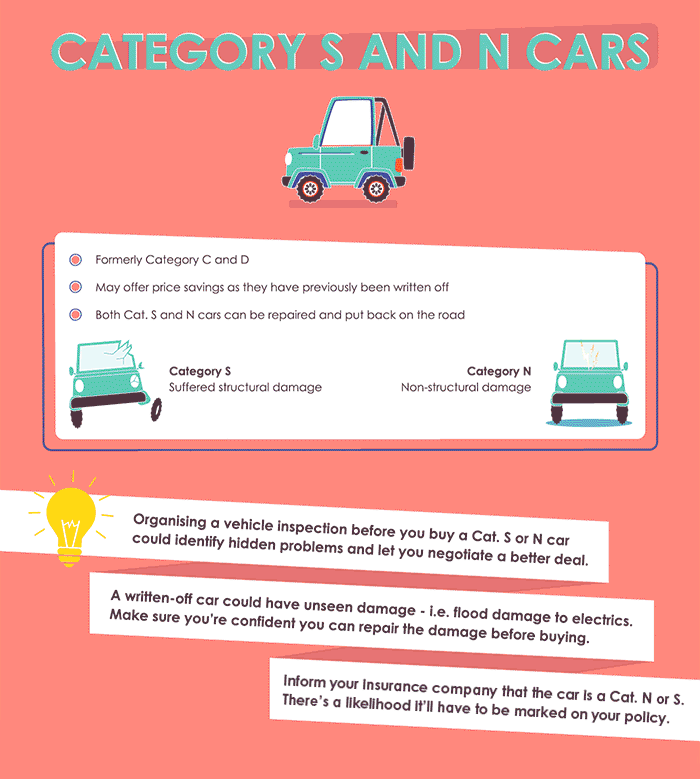 Documents checklist for buying a used car
Once you've made your assessment on how a car looks and runs, it's essential that you request the vehicle's accompanying documents from its current owner.
These include the vehicle's service and MOT history and car handbook. This will provide you with a historic run through of any bumps, crashes or incidents the vehicle has been involved it. You will need this information to inform your insurer when arranging car insurance for your new purchase.
The car's handbook will provide you with an in-depth overview of all the elements of the car, including the radio and engine, for example.
Never purchase a car without the current owner providing you with the vehicle's V5C document. This will provide you with temporary proof that you're the owner of the car until the DVLA sends you a new V5C. Failing to update this document and sharing it with the DVLA can carry a hefty fine of £1,000; a risk not worth taking.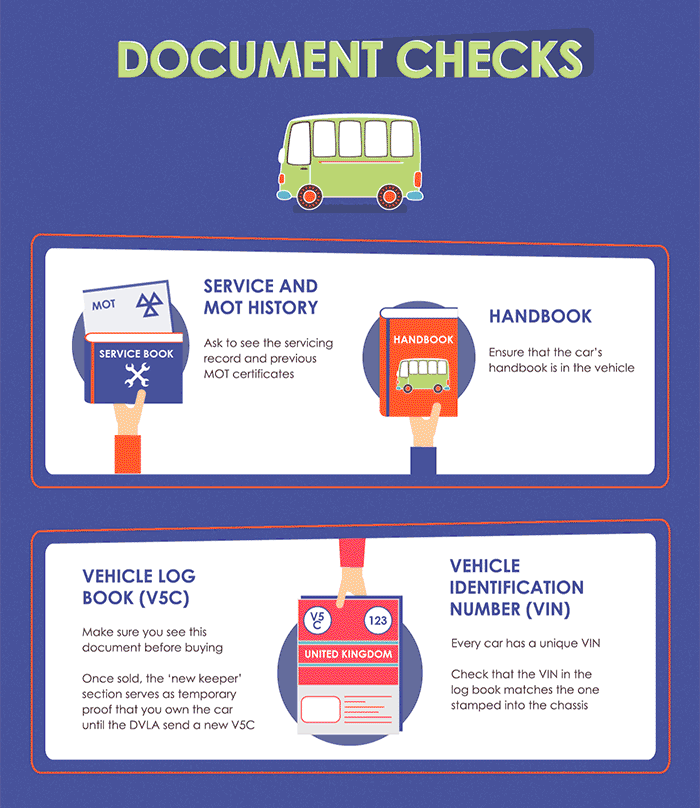 Making the transaction to buy your used car
Once you've done your due diligence in knowing what the vehicle has to offer, your attention will turn to the price before sealing the deal. There's sometimes some wiggle room with prices, especially if you've found anything wrong with the car. While this won't be possible at car auctions, it's worth trying to negotiate with a dealer or private seller. Dealerships may also offer second hand car finance.
Once you have agreed a price, you'll want to get a receipt as evidence of your purchase. If you're buying from a dealership, you'll also want to agree a collection date. Buying from a private seller will mean that you're able to drive off there and then. Just remember to sort out your car insurance and vehicle tax as soon as possible thereafter.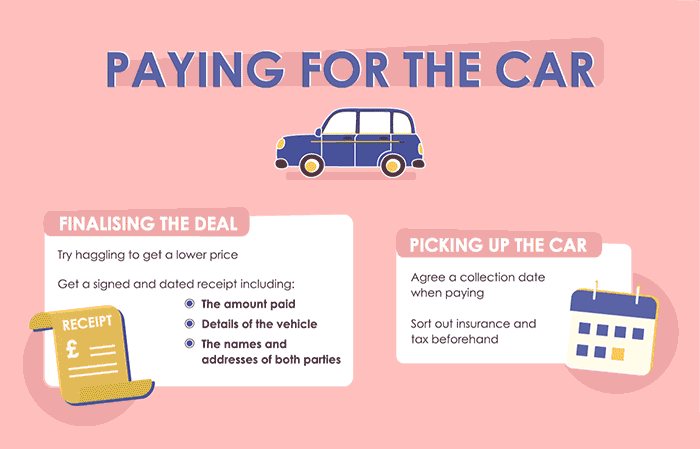 As extra due diligence for second-hand car buying
You can also find out more about a second-hand vehicle before you buy it by doing some further research online:
Used-car owner next steps
Once you've made your purchase, you'll want to make sure you have the vehicle's tax and insurance cover sorted. Find out more about Sainsbury's Bank's Car Insurance.
You can also take inspiration from our car guide series and ways to maintain your car to make the most of your wheels.
This Money Matters post aims to be informative and engaging. Though it may include tips and information, it does not constitute advice and should not be used as a basis for any financial decisions. Sainsbury's Bank accepts no responsibility for the opinions and views of external contributors and the content of external websites included within this post. Some links may take you to another Sainsbury's Bank page. All information in this post was correct at date of publication.