Boston Terrier dog breed information and advice
Sometimes confused with French Bulldogs, Boston Terriers are compact little pups with big eyes, classic tuxedo markings and big personalities. Originally bred in the United States, the Boston Terrier first made it to British shores at the beginning of the 20th Century and have been with us ever since.
This dog breed guide will give you information on how to care for a Boston Terrier. Including the breed size, colours, temperament as well as common health issues.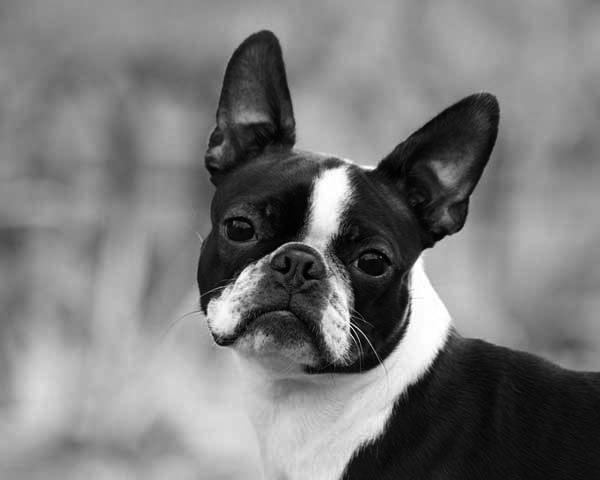 | | |
| --- | --- |
| Lifespan | 13 - 15 years |
| How much | £450 - £1000 |
| Size | 38 - 43 cm |
| Weight | 4.5 - 11 kg |
| Colours | black & white, brindle & white, seal & white |
| Grooming | weekly brushing |
| Temperament | lively, friendly & stubborn |
| Exercise | 30 - 60 minutes |
Boston Terrier insurance
Injury and illness can happen to any dog at any age. Some health conditions are more common in Boston Terriers than other dog breeds. It's important that your Boston Terrier is covered by dog insurance, as this will help you pay for any treatment they require.
Sainsbury's Bank Pet Insurance
Sainsbury's Bank Pet Insurance will cover your Boston Terrier puppy from 8 weeks old. You can continue the policy for their full lifespan, with either lifetime or time limited cover. Don't worry, we also cover older dogs if you take the policy out before their 8th birthday.
How to care for a Boston Terrier
Your dog's health will be affected by their diet, exercise, training and grooming. Regular vet health checks will help to pick up on any health issues early on, resulting in quicker treatment.
Feeding and nutrition
Your dog will need feeding twice a day. It's better for your dog's small stomach to split their meals into two rather than feeding them their daily allowance in one meal. If you have a puppy, they should be fed 3-4 times a day, but as they get older decrease to 2 meals.
All dog food has nutrient contents and measurement guidelines on the packaging. This will tell you how much food your dog needs a day. You can include dog treats in your dog's diet, but make sure you don't give them too many. Too many treats will cause your dog to become overweight which will affect their health.
Grooming
Boston Terriers have a short smooth coat. You might think this means that they don't need grooming often, but that's not always the case. Some Boston Terrier's need bathing weekly and others can go up to 6 weeks. How often you bathe your dog will depend on how quickly they get dirty or smelly. You need to bath them to keep their skin healthy. If your dog starts to smell or itch, then it's time for a bath. You can either bath your dog at home or take them to a professional dog groomer.
You can buy a bath brush to help remove dead hair and skin during bath time. The brush is rubber and specifically designed for use on dogs.
Exercise
How much exercise your dog needs may vary. Generally, they like 30-60 minutes a day. This can be split into two walks. They're a lively breed that loves to run around off lead. Make sure your dog is in a safe area before letting them off the lead.
Your dog will love to play games and should always have toys within reach. If they don't have a toy, they are likely to chew on something else. They don't mind if it's a shoe or a table leg. They have strong jaws, so chew ropes and hard rubber toys suit them best.
Training
Boston Terriers are intelligent, but they're also stubborn. This can make training difficult. You'll need to be patient with your dog and remember that repetition is key. Training classes are a great place to pick up tips for successful training and they give your dog the chance to socialise with other dogs.
House training is easier with a puppy than an adult dog. This is because adult dogs will be used to going to the toilet wherever they want, and it'll take time to change that. The sooner you start puppy toilet training, the quicker they will learn. To toilet train your dog, you'll need to give your dog lots of chances to go to the toilet. Let them outside frequently giving them your chosen command such as "go for a wee". Reward your dog when they have toileted outside.

Temperament and behaviour
Many people mistake the Boston Terrier for a French Bulldog, due to their similar appearance. They both have short noses and pointed ears. But Boston Terriers have longer legs and a less muscular build. They also have similar personality and behaviour traits.
Boston Terriers have a gentle temperament. They are affectionate and lively, making them great companions. They are more active than French Bulldogs and will have sudden bursts of energy. Your Boston Terrier will enjoy running around and playing fetch.
Common health problems
It's important to know the common health problems linked to Boston Terriers. Make sure your pet insurance covers your dog for these issues so that you can give them the health care that they need without worrying about the cost.
Dystocia
This condition refers to birthing difficulties that can occur at any stage of labour. The cause could be foetal, maternal or a combination. Foetal abnormalities, abnormal foetal positioning and birth canal abnormalities are examples of possible causes. A vet will need to assist with the delivery of the puppies. A caesarean section may be the best option.
Hereditary cataract
If your dog has a cataract, you'll notice a cloudiness of their eye. The clouded lens causes vision loss and can affect one or both eyes. Your vet will carry out tests to determine the stage of development and what form of cataract it is. Surgery will be recommended to prevent complete blindness.
Luxating patella
Luxating patella refers to the incorrect alignment of the kneecap. A normal kneecap slides into a groove, a luxating patella will jump out of the groove, causing pain and locking the leg in place. The affected dog will hop on one of the back legs, holding the affected leg up. If your dog has a luxating patella it will need surgery to realign the kneecap. This involves making the groove deeper so that the kneecap slides in easily. An untreated dog can become lame and will be in pain.
Cleft palate
Retinal dysplasia is when the retina of the eye doesn't develop properly. It can cause total retinal detachment and blindness in severe cases.

So, is a Boston Terrier right for you?
This friendly breed would be well suited to you if you're looking for a playful companion. They'll keep you entertained with their bursts of energy, but you'll need to have patience when it comes to training.
Are Boston Terriers healthy?
There are health issues linked to short-nosed dogs and small dog breeds, and the Boston Terrier is no exception. They are considered generally healthy but there are some health problems that you should be aware of. Most of the conditions are treatable, so make sure your dog insurance will cover the cost.
How big do Boston Terriers get?
It's difficult to know exactly how big your Boston Terrier will get, but they generally grow to be around 38-43 cm tall and should weigh 4.5-11 kg. They'll reach their full height by the time they are 14 months. Their weight will depend on their diet and exercise. Make sure you weigh their food to stop them from being over or underweight.
How long do Boston Terriers live?
Boston Terriers have a lifespan of 13-15 years. Your dog will have the best chance of meeting this life expectancy if they receive the correct health care. Diet, exercise, health check-ups and grooming all play an important part in your dog's health.
Browse our guides
Choose from our list of helpful guides and information
Explore dog breeds
Find out how to keep your dog healthy and happy
Cat breed guides
How to care for your cat, common health problems and more
References
Content provided from Vetstream's Vetlexicon
Vetstream Ltd (online) Boston Terrier.. In: Vetlexicon Canis. Vetstream Ltd, UK. Website: https://vetstream.com/treat/canis/breeds-pages/boston-terrier
Braund K & Davidson A P (online) Dystocia. In: Vetlexicon Canis. Vetstream Ltd, UK. Website: https://vetstream.com/clinical-reference/canis/diseases/Dystocia
Brooks D E & Williams D L (online) Lens: hereditary primary cataract. In: Vetlexicon Canis. Vetstream Ltd, UK. Website: https://vetstream.com/clinical-reference/canis/diseases/Lens-hereditary-primary-cataract
Thompson M (online) Cleft lip and palate. In: Vetlexicon Canis. Vetstream Ltd, UK. Website: https://vetstream.com/clinical-reference/canis/diseases/Cleft-lip-and-palate
Content provided from Vetstream's Vetlexicon Canis www.vetstream.com/treat/canis
Terms and conditions
Important information
Sainsbury's Bank plc, Registered Office, 33 Holborn, London EC1N 2HT (registered in England and Wales, no. 3279730) is authorised by the Prudential Regulation Authority and regulated by the Financial Conduct Authority and the Prudential Regulation Authority (register no. 184514). Sainsbury's Supermarkets Ltd is an appointed representative of Sainsbury's Bank plc.
Sainsbury's Bank plc acts as an introducer to Pinnacle Insurance plc who is authorised by the Prudential Regulation Authority and regulated by the Financial Conduct Authority and the Prudential Regulation Authority (register number 110866). Registered Office: Pinnacle House, A1 Barnet Way, Borehamwood, Hertfordshire, WD6 2XX. Sainsbury's Bank plc and Pinnacle Insurance plc are not part of the same corporate group.