Cocker Spaniel dog breed information and advice
If you're thinking of welcoming a Cocker Spaniel into your family, this guide will help you decide if this breed is right for you. From feeding and grooming to Cocker Spaniel insurance, the more you know about a breed, the easier it will be to make the right choice.
Cocker Spaniels, also known as the English Cocker Spaniel, are well known for being an energetic, playful breed. They're also very affectionate and make great family pets. They love fetching a ball or finding a hidden toy.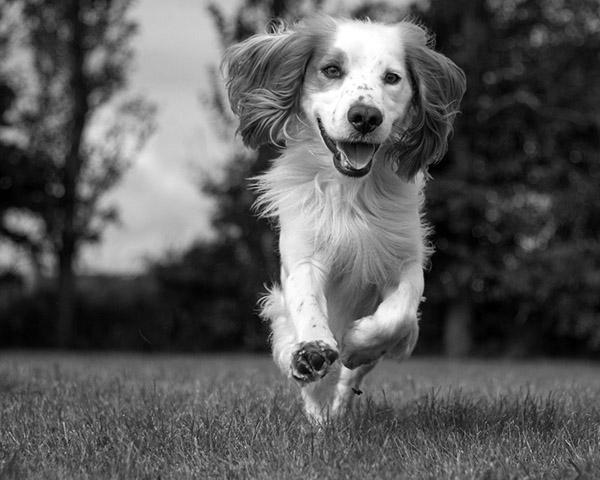 | | |
| --- | --- |
| Lifespan | over 10 years |
| How much | £400 - £1500 |
| Size | 38 - 41 cm |
| Weight | 13 - 14.5 kg |
| Colours | black, black and white, blue roan, chocolate, gold and red |
| Grooming | regular daily grooming is essential |
| Temperament | friendly, gentle and loving |
| Exercise | regular, daily exercise |
Cocker Spaniel insurance
If you're considering getting a Cocker Spaniel, don't forget about dog insurance. Everyone wants to give their dog the best chance if they have a health condition or need emergency treatment. This can include any medication, vet prescribed complementary treatment or surgery.
Sainsbury's Bank Pet Insurance
You can take out Sainsbury's Bank dog insurance as long as your puppy is over 8 weeks old and your dog is less than 8 years of age. Once you have cover in place with us, you can insure your dog up to any age as long as you keep renewing the policy without a break.
How to care for a Cocker Spaniel
Cocker Spaniels need lots of attention and plenty of exercise. Here are some tips on keeping them healthy and happy:
Feeding and nutrition
If you choose a Cocker Spaniel puppy, try and feed it the same food it was given with its littermates. You can change the food, but this should be done over a few days to prevent an upset tummy. Puppies are usually fed 3 or 4 times a day, whereas adults are usually fed once or twice a day.
Guidelines on how much you should feed your Cocker Spaniel can be found on the food packaging. But the amount you feed them will also depend on your dog's size and the amount of exercise it gets each day. Cocker Spaniels are prone to gaining weight as they get older, so regular exercise is a must.
If you're not sure how much to feed your Cocker Spaniel, speak to your vet who will be happy to help you work out a feeding plan.
Grooming
Most Cocker Spaniels have a medium-length, flat, silky coat with fluffy ears and legs. Keeping their coat looking good will require daily grooming – which can be a difficult task.
Asking a professional groomer to trim your dog's coat to a manageable length is a good idea. It will make it much easier to keep your pet clean, tidy and knot-free. A Cocker Spaniel's ears are renowned for getting matted up with grass seeds and burrs, so it's really important to keep them trimmed and tidy.
'Field' Cocker Spaniels usually have a much shorter coat, which is a bit less labour intensive. However, they still have the trademark fluffy ears and legs so will still need grooming to keep knots at bay.
Exercise
Cocker Spaniels are bouncy balls of energy, and they love playing games and going walkies. Regular exercise will help them burn off any excess exuberance and prevent them from getting up to mischief.
It can be difficult to know how much exercise a Cocker Spaniel needs a day as it changes as they get older. Cocker Spaniel puppies will benefit from a few very short walks each day. As your dog gets older, you can reduce this to two walks but increase the length. An older dog still needs regular exercise to help keep their joints mobile, but avoid very long walks as this can do more harm than good.
And don't forget playtime, this is an essential part of their life. Whether you're at home or out on a walk, playing together is a great way to have fun and to bond.
Training
Cocker Spaniels are very intelligent and eager to please. They're fast learners which makes them easy to train whether they're a puppy or an adult dog.
You'll find house training is usually a fairly easy process. And teaching them to sit, stay and fetch a ball will be fun for both of you.

Temperament and behaviour
Cocker Spaniels are a friendly, loving breed, and make great pets. They're well known for their gentle, affectionate and energetic personalities. You'll have plenty of fun with them, as they love playtime. They're great at fetch and find games and are very agile too.
This breed needs to be kept active and occupied. If your dog is left alone for long periods of time, they're likely to become bored and get up to no good. This is when behavioural problems rear their ugly head. Destructive behaviour and separation anxiety are common behavioural problems seen in Cocker Spaniels that don't get enough mental and physical stimulation.
Cocker Spaniels are affectionate, love a cuddle and will always want to join in on family activities and outings.
Cocker Spaniel health problems
Cocker Spaniels are known to suffer from several health problems, which is why it's important to take out Cocker Spaniel insurance. Here are some of the more common ailments they suffer from:
Generalised progressive retinal atrophy (GPRA, or PRA)
GPRA is a disorder of the eyes, commonly seen in Cocker Spaniels. Dogs with GPRA might show signs of poor vision in dim light. This can cause them to be a bit more cautious or nervous about going outside in the dark. Some develop cataracts so their eyes look cloudy. If your dog shows any of these signs, it's important to take a trip to the vet.
The condition is inherited, and unfortunately, there's no treatment. Eventually affected dogs will go blind, but with loving care and attention they can still lead a happy life.
Hereditary cataracts
This is an inherited condition that affects both eyes. Dogs can be born with it or, more commonly, develop the condition as they grow older. If your dog develops cataracts, you might notice a slight whiteness of the eye that can gradually become very cloudy over time.
Surgery to remove the cataracts is possible for some dogs. The outcome is usually good if your dog gets regular veterinary checks following surgery.
Retinal dysplasia
This is a condition of the eye where the retina doesn't develop properly and, in some cases, can lead to complete blindness. Signs of this condition aren't always obvious unless your dog suffers sudden blindness.
There isn't any treatment for retinal dysplasia, but because most dogs are born with it, they usually adjust well to life with this condition.
Acral mutilation syndrome (AMS)
AMS is an inherited disorder of the nervous system. The condition is often seen in puppies aged between 3 and 5 months. Pain sensation is lost, and puppies lick and chew their feet, causing themselves harm without realising it. This is a serious condition, and unfortunately, most dogs end up being put to sleep.

So, is a Cocker Spaniel right for you?
Cocker Spaniels are full of fun and make loving family pets. They enjoy playing, learning new things and being kept active. They make great companions, so if you have the time - and energy - to spend with them, you'll have many years of fun together.
How long do Cocker Spaniels live?
Most small dog breeds live longer than large dogs. The Cocker Spaniel is a medium-sized breed and has a lifespan of over 10 years. You can help your dog reach their prime by providing them with the best love and care possible.
Do Cocker Spaniels shed their hair?
Cocker Spaniels are known to shed quite a lot of hair and require lots of grooming. Grooming will keep them tidy and prevent matting which can be uncomfortable. Cocker Spaniel's are not a hypoallergenic breed, their dander and saliva will probably cause a reaction in allergy sufferers. If you suffer from a dog allergy, this breed isn't the right one for you.
When do Cocker Spaniels stop growing?
Cocker Spaniels usually stop growing when they're between 9 and 12 months old. Their muscles will continue to develop until they're a year old. Once they reach their first birthday, they're fully mature and the only thing that might change after this is their weight.
Browse our guides
Choose from our list of helpful guides and information
Explore dog breeds
Find out how to keep your dog healthy and happy
Cat breed guides
How to care for your cat, common health problems and more
References
Content provided from Vetstream's Vetlexicon Canis - www.vetstream.com/treat/canis
Dennis E Brooks, David L Williams (online) Lens: hereditary primary cataract. In: Vetlexicon Canis. Vetstream Ltd, UK. Website: https://www.vetstream.com/treat/canis/diseases/lens-hereditary-primary-cataract.
Dennis E Brooks, David L Williams, David Gould (online) Retina: generalized progressive retinal atrophy. In: Vetlexicon Canis. Vetstream Ltd, UK. Website: https://www.vetstream.com/treat/canis/diseases/retina-generalized-progressive-retinal-atrophy.
Rhea Morgan, Natasha Mitchell (online) Retina: dysplasia. In: Vetlexicon Canis. Vetstream Ltd, UK. Website: https://www.vetstream.com/treat/canis/diseases/retinal-dysplasia.
Rosanna Marsella, David Scarff, Laurent Garosi (online) Skin: acral mutilation syndrome. In: Vetlexicon Canis. Vetstream Ltd, UK. Website: https://www.vetstream.com/treat/canis/diseases/skin-acral-mutilation-syndrome.
Vetstream Ltd (online) American Cocker Spaniel. In: Vetlexicon Canis. Vetstream Ltd, UK. Website: https://www.vetstream.com/treat/canis/breeds-pages/american-cocker-spaniel.
Vetstream Ltd (online) Cataract Owner Factsheet. In: Vetlexicon Canis. Vetstream Ltd, UK. Website: https://www.vetstream.com/treat/canis/owner-factsheets/cataract.
Vetstream Ltd (online) Cocker Spaniel. In: Vetlexicon Canis. Vetstream Ltd, UK. Website: https://www.vetstream.com/treat/canis/breeds-pages/english-cocker-spaniel.
Vetstream Ltd (online) Progressive retinal atrophy (PRA) Owner Factsheet. In: Vetlexicon Canis. Vetstream Ltd, UK. Website: https://www.vetstream.com/treat/canis/owner-factsheets/progessive-retinal-atrophy-(pra).