Barks and Recreation: Getting out and about with your dog
It's no secret that we're a nation of dog lovers. According to Statista, there are 12 million pet dogs in the UK. The most popular breeds include the lovable Labrador Retriever, the adorable French Bulldog, and the lively Cocker Spaniel.
Over a third of UK households own a dog, so it comes as no surprise that many families want their four-legged family member to come along on days out and staycations. But how do our cities measure up when it comes to accommodating our furry friends?
From dog-friendly pubs and hotels to walks and green spaces, we used third-party data to create an index of the most dog-friendly cities in the UK. Whether it's frolicking on the beach in Plymouth or cosying up by the fire in Edinburgh, UK cities have lots to set tails wagging.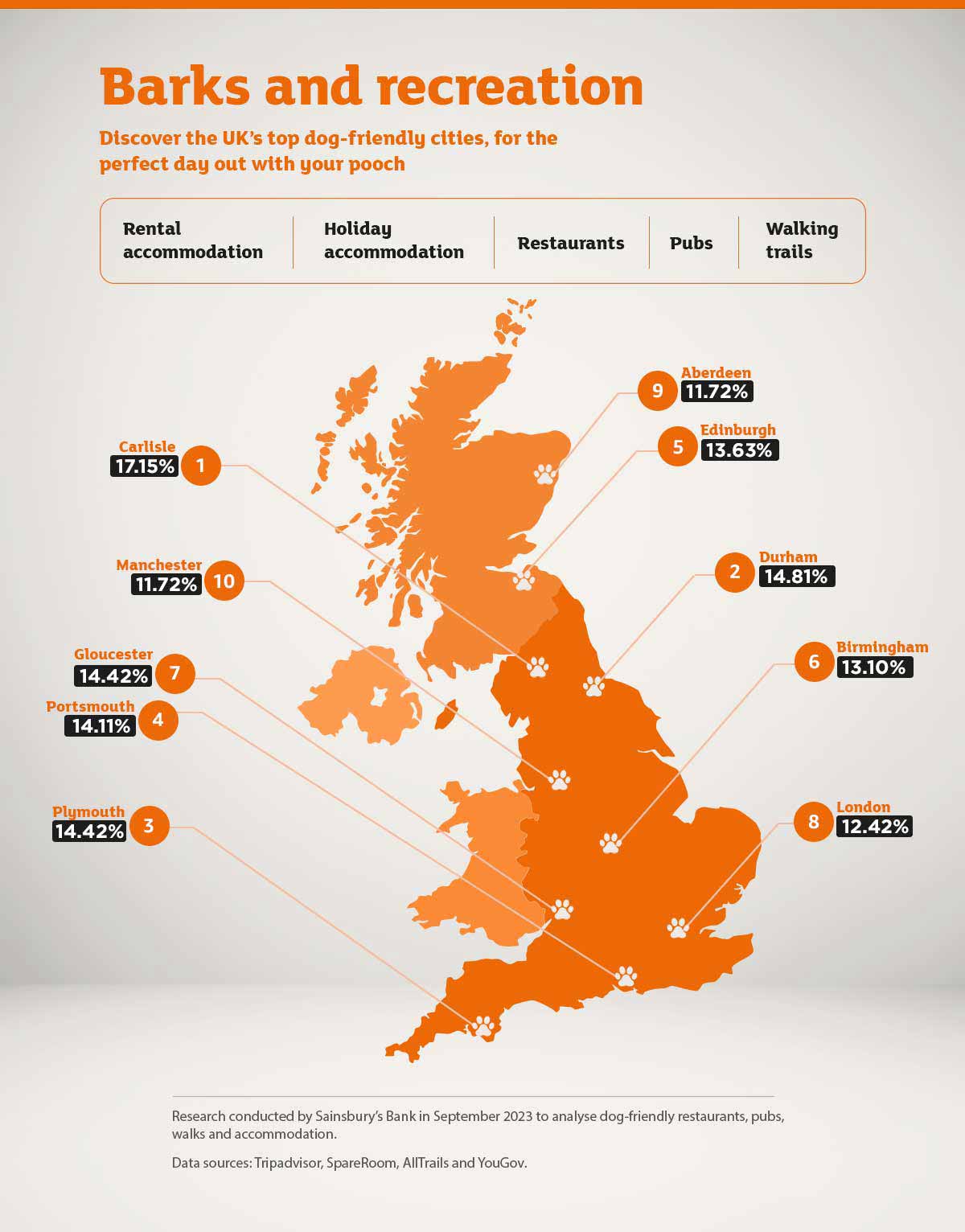 Read on to find out which city takes the top spot, and what makes our top 10 cities so perfect for pooches.
The most dog-friendly cities in the UK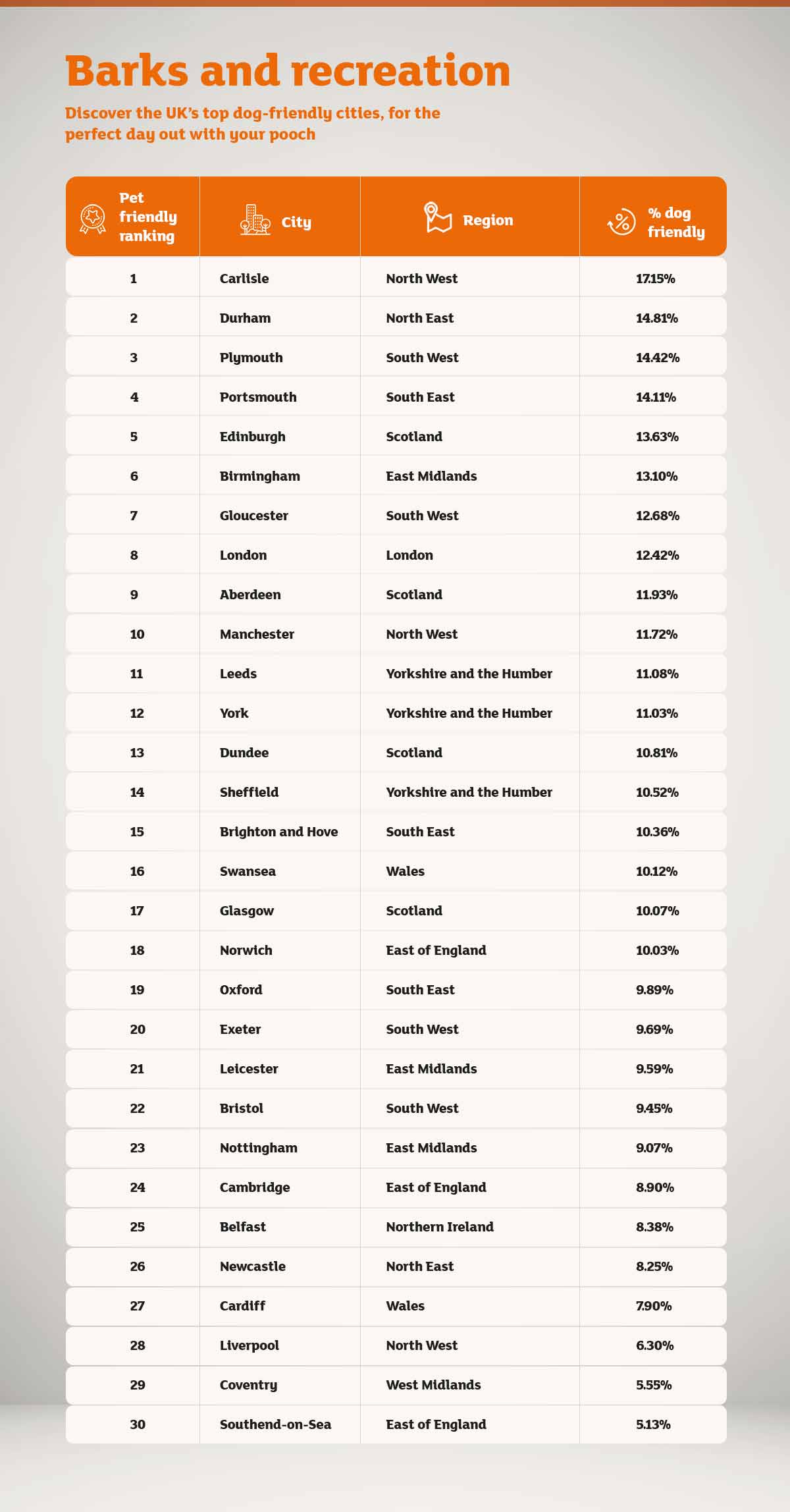 Carlisle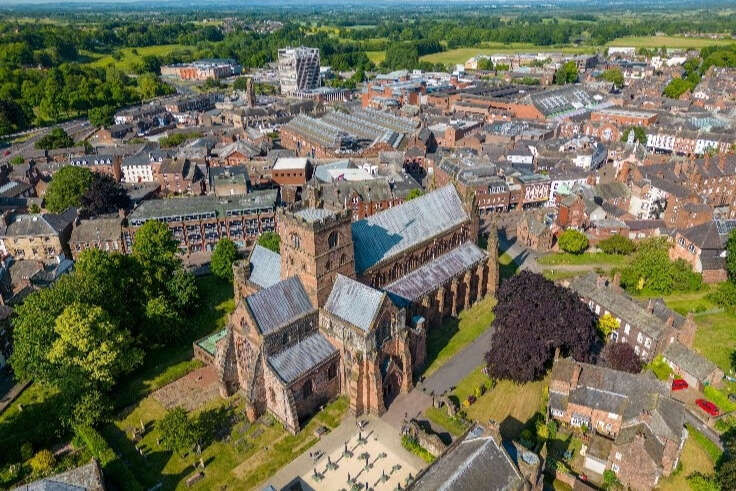 The aptly-named Great Border City came out as the top dog. But whether you're bringing a Border Terrier, a Border Collie or a Basset Hound, Carlisle is sure to welcome you with open arms.
The northern city has the most dog-friendly hotels of all our cities according to Tripadvisor, meaning it would make a perfect location for a weekend away with your pooch in tow. Plus, with Solway Coast AONB (Area of Outstanding Natural Beauty), North Pennines AONB and the Lake District National Park on your doorstep, there's no shortage of beauty spots for walkies.
The top three pet-friendly hotels in Carlisle as ranked by visitors are:
The Halston Hotel
The Crown Hotel
Travelodge Carlisle Todhills
Top tips for bringing your dog to a hotel:
Keep your dog on a lead in public areas
Make sure you know the way outside at night for toilet trips
Bring your dog's bed or a blanket to sleep on – something that smells of home will help them feel calm and relaxed
Durham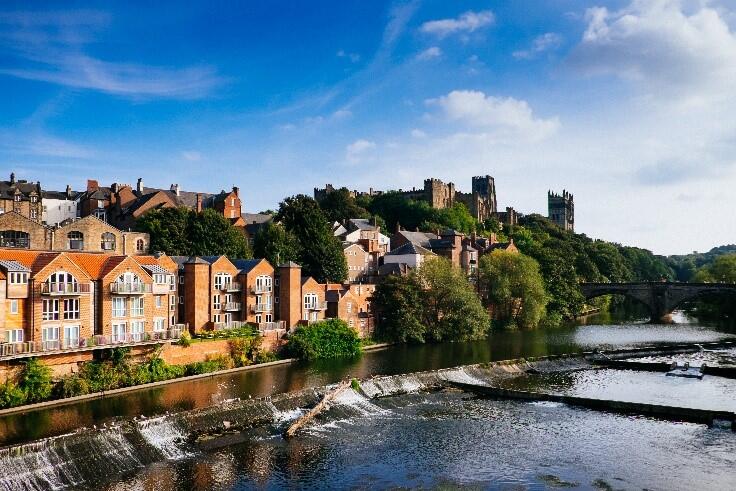 Durham in the north east of England came in second place. The city has the most dog-friendly rooms for rent, according to SpareRoom. This makes it a great location for young professionals with a dog.
Located just a 30-minute drive to the east coast and close to the North Pennines AONB, there are also lots of parks in the centre of the city for your pooch to explore.
Top tips for renting with your pet:
Ask to include a clause in your rental contract about your dog being allowed
Choose a property with an enclosed garden so your dog can go outside
Look for rentals close to parks and green spaces for walks
Plymouth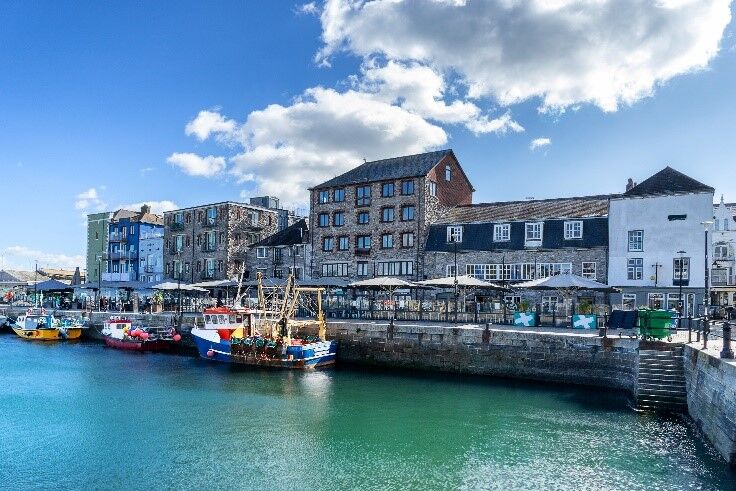 In third place, Plymouth is located on the south coast. It's perfect for dogs who love swimming, digging and rolling in the sand. Dog-friendly beaches are in high demand, with 12,000 searches for "dog-friendly beaches near me" every month.
A day out on the sand with your dog can be so much fun. And there's no shortage of dog-friendly beaches to explore in Plymouth. Saltram, Bovisland and Jennycliff Beach are just a few of the ones that welcome dogs.
According to the AllTrails app, 11 of the best walks in Plymouth are dog-friendly. Five of these walks are on or near a beach – such as Heybrook Bay to Wembury Beach walk, a beautiful 1.6 mile walk along the rugged coastline.
Top tips for taking your dog to the beach:
Check the beach is dog-friendly and if dogs are allowed on all sections
Make sure the waves are safe before you allow your dog to swim
Bring extra towels for drying off afterwards
Portsmouth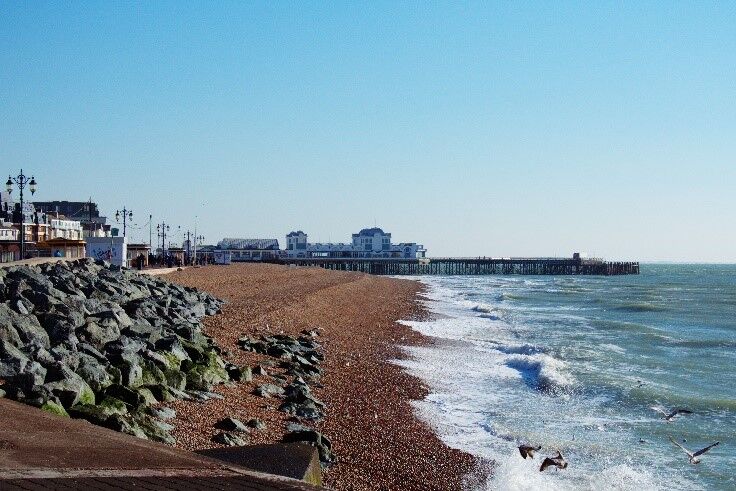 Another city on the south coast, Portsmouth has the most dog-friendly restaurants, according to Tripadvisor. This makes Portsmouth a great destination for foodie dog owners. Why not spend the day exploring this port city with your pooch, before heading out for the evening for a bite to eat?
The top three dog-friendly restaurants in Portsmouth as voted for by visitors are:
The Florence Arms
Gin & Olive Southsea
Becketts
Top tips for visiting restaurants with your dog:
Be considerate of other diners – not everyone wants dogs around while they're eating
Bring something to keep your dog busy – a chew or a toy
Help your dog get comfy with a blanket to lie on
Let the restaurant know you're bringing a dog when you book – often there are dog-friendly areas or quieter spaces more suitable for dogs
Edinburgh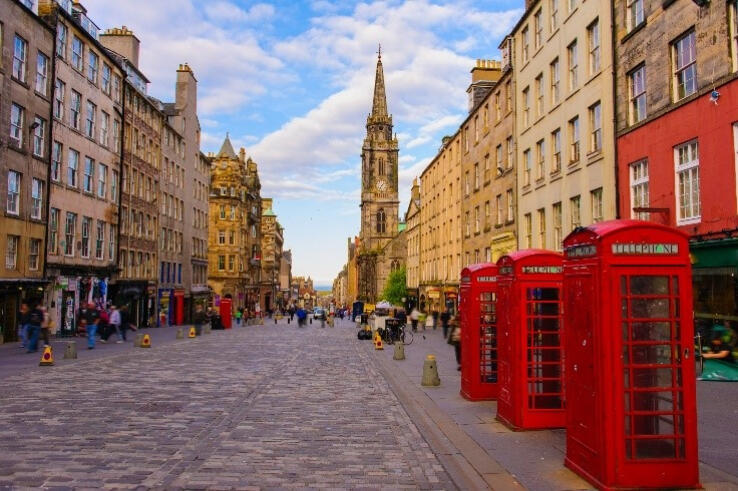 Scotland's capital city is another dog-friendly haven. Edinburgh has the most dog-friendly pubs, according to Tripadvisor – making it a great choice for dog owners looking for a city break.
If you're exploring Edinburgh with your dog, step inside any of the cosy dog-friendly pubs to get warm by the fire – and maybe indulge in a dram of whiskey.
The top three dog-friendly pubs in Edinburgh, as voted for by visitors are:
The Balerno Inn
The Piper's Rest
Roseleaf Bar Café
Top tips for visiting pubs with your dog:
If it's raining, bring a towel to dry your dog before you go inside
Be mindful of other dogs and try to give them plenty of space – meeting lots of other dogs in an enclosed space can be stressful for your pooch
Bring a dog bowl so they can have a drink too – water of course
Birmingham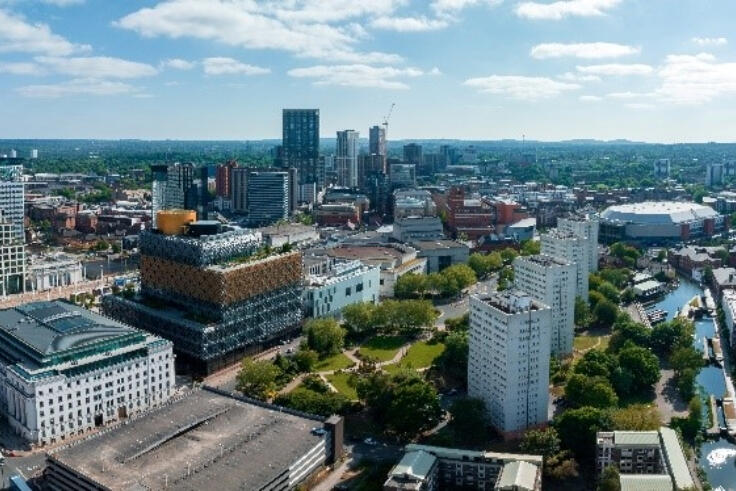 Despite being an urban metropolis, Birmingham is brimming with dog-friendly walks, according to AllTrails. The city is home to 591 parks, so there's no shortage of outdoor strolls to keep your dog content while you're in Birmingham.
If you've had your fill of sight-seeing in Birmingham, the top three dog-friendly walks as voted for by visitors are:
Woodgate Valley Country Park Trail
Edgbaston Reservoir Circular
Lickey Hills and Barnt Green Reservoir Circular
Top tips for walking your dog in new places:
Keep them on the lead until you've assessed the area
Practice recall so you can call your dog back if you spot danger
Be aware of your surroundings – keep a look out for wildlife or livestock and keep your dog under control
Gloucester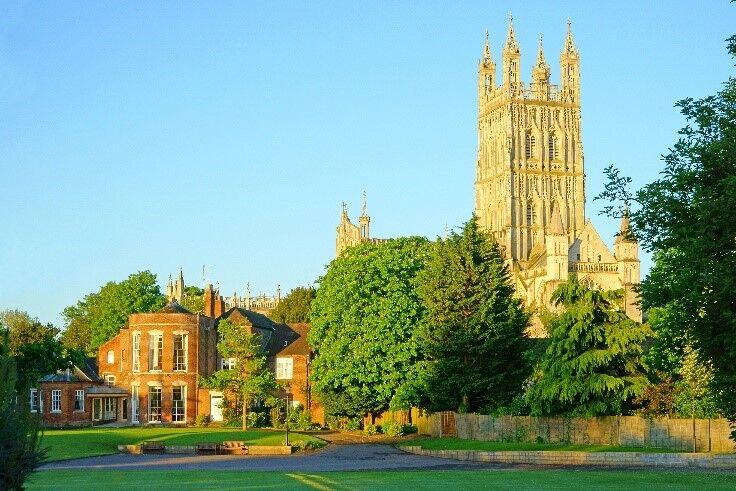 Gloucester comes in at number seven overall, but ranked number two for dog-friendly hotels according to Tripadvisor. Close to the Cotswolds AONB, Gloucester is famed for its history dating back to Roman times. With plenty of stunning architecture to admire, it's a popular destination for city breaks in the UK.
The city has the UK's biggest inland port, which you can stroll along on walks earmarked as dog-friendlyon AllTrails, such as the "Frampton on Severn to Sharpness" route. This and Robinswood Hill Country Park make for popular dog walks in Gloucester.

Top tips for walking your dog near water:
Keep your dog on the lead if they like to swim
Find a place where they can safely get in and out before letting them swim
Make sure there are no green algae, fast currents or submerged objects
London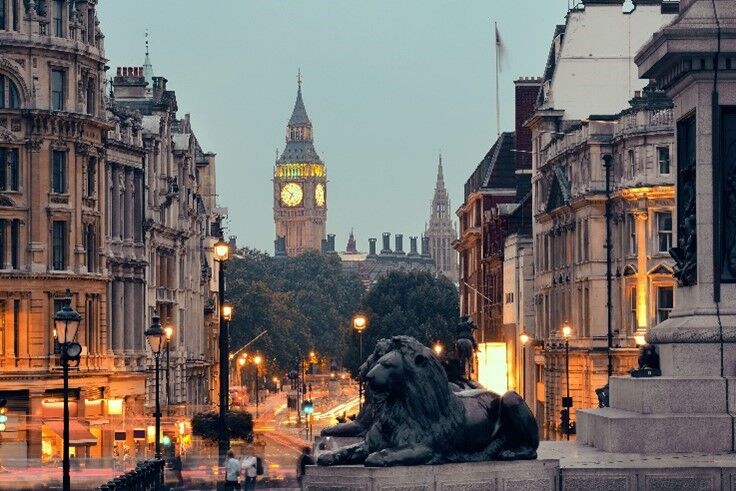 World-famous for its tourist attractions, London also has a host of attractions that your dog can visit too. You can take a walk through Borough Market or amble through the leafy avenues of Hyde Park. Alternatively, you can visit the bustling shops and restaurants in Covent Garden – all of which are among the top 15 "things to do in London" according to Tripadvisor.
Lots of people are on the lookout for dog-friendly locations in London, with 2,100 online searches for "dog-friendly restaurants London" per month. If you're visiting the capital with your dog, try to find somewhere to stay close to a park, so you can take them for walks in nature before venturing into the hustle and bustle of the city.
Top tips on navigating a busy space with your dog:
Start early – if you have a puppy it's a good idea to acclimatise them to busy places like the tube from a young age so they don't get stressed when they're older
Teach focus – train your dog to pay attention to you with eye contact
Take lots of treats and reward good behaviour
Let them sniff – dogs experience the world through smell, so allow them to stop and sniff as you explore
Aberdeen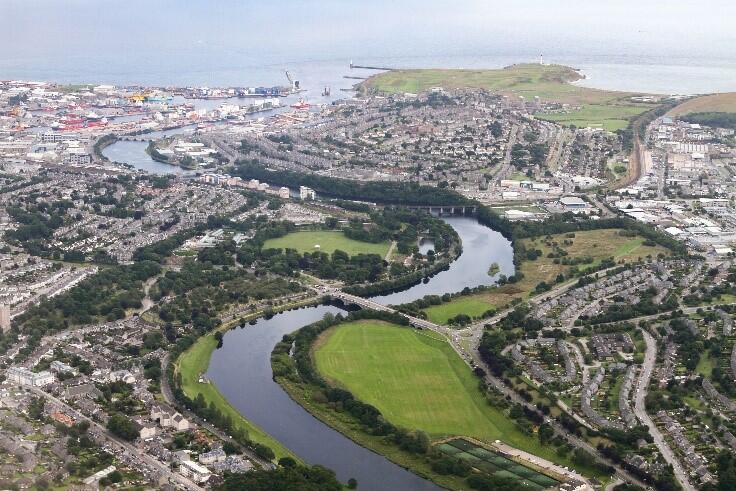 Aberdeen is the second most dog-friendly city in Scotland, and the ninth friendliest in the UK. The picturesque coastal city has an oceanic climate, making it one of the coldest cities in the UK too.
Whether you're paddling on an Aberdeen beach or wandering through the pretty and historic streets in search of pub grub, the city is a great location for holidays with dogs.
Top tips on preparing for the weather with your dog:
Make sure you pack for the weather – if your dog has short hair don't forget their coat
Bring a towel to dry them off before heading inside
Test the tarmac in summer – if it's too hot for the palm of your hand it's too hot for their paws
Bring plenty of water – dogs need to stay hydrated in hot weather
Manchester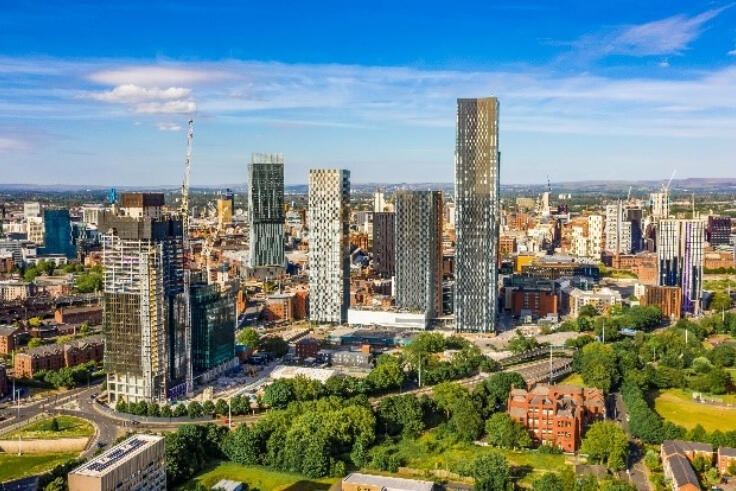 Manchester is a vibrant and modern city, famous for its football, music and eclectic food and drink scene. It's also a popular destination for shopping – and with plenty of dog-friendly shops, it's a great destination for some retail therapy with your pooch.
Top dog-friendly shops in Manchester:
Afflecks Palace – this alternative, punk and scene institution is also dog-friendly
Oklahoma – quirky and unique homeware shop that welcomes well behaved pooches
Piccadilly Records – browse the vinyl with your dog in tow
Top tips on shopping with your dog:
Keep them on a short lead and under control
Beware of wagging tails near fragile objects
Make it fun with lots of treats
Do's and don'ts of dog-friendly cities
Our index isn't exhaustive and relies on third-party data tools, so we advise you to also do your own research when planning a trip with your dog.
Here are some top tips to help make the experience enjoyable for all of you.
DO:
Make sure your dog is microchipped and wearing a collar with a tag on in case they go missing. This is a legal requirement.
Consider Sainsbury's Bank Dog Insurance, Provided by Pinnacle plc can cover you if your dog is ill, or injured while you're out and about. Here are some benefits you should look out for with pet insurance that can help you out when you're on holiday with your dog:

Holiday cover

Loss through theft or straying

Emergency kennel feels

Bring everything your dog might need, such as:

Lead, collar and/or harness

Food and treats

Water bowl

Bed or blanket to lie on

Poo bags

Toys, ball etc.

Long lasting chews

Pay attention to your dog. If they're feeling stressed or overwhelmed in a new environment, take some time out in a less stimulating place
DON'T:
Let them off the lead in unfamiliar or busy places without checking for risks like traffic, farm animals or other dangers
Get too close to other dogs – not all dogs are friendly so ask the owner first
Ignore signals from your dog – they will communicate if they're not comfortable or happy
Expect everyone to be comfortable around your dog. Respect that some people just don't want dogs around.
Assume everywhere is dog-friendly. Ask first – it's only polite.
Expect hotels, pubs or restaurants to provide everything your dog needs. It's your responsibility as an owner to bring food, water and treats
Dog lovers can enjoy so many of the UK's cities with their furry friends thanks to the many dog-friendly hotels, pubs, restaurants and walks. A holiday with your dog is a fantastic way to enjoy each other's company, strengthen your bond and make memories with your dog. But it's important not to overlook the essentials. Keep yourself protected with comprehensive pet insurance provided by Pinnacle Insurance plc, so you have peace of mind wherever your adventures take you. Have fun and happy exploring.
If you're looking to learn more about your dog's specific breed and how to care for them, check out our dog breed guides. You'll find everything from advice around temperament and grooming to common health issues to look out for.
Methodology
To find the most dog-friendly city in the UK, a seed list was taken using a YouGov poll of the most popular cities in the UK. We looked at the top 31 cities on this list, removing Poole as it is a town.
We then collected data from Tripadvisor, SpareRoom and AllTrails.
We looked at the number of hotels/rooms/bars/restaurants/walks overall, and the number of hotels/rooms/bars/restaurants/walks which allowed dogs, to work out the percentage of dog-friendly places in each category.
We then worked out an average percentage of dog-friendly places for each city, and used this to rank the top 30 most dog-friendly cities in the UK.
All index data is accurate as of 24/09/23. All search data mentioned in blog post is accurate as of 22/09/23.