This guide sets out the steps you should take to be safe in the event of a breakdown.
A car breakdown is every motorist's nightmare, but something that will affect nearly all road users at some point. Effective car breakdown cover is something all motorists should seriously consider. But what should you do in the minutes during and after the moment your car lets you down?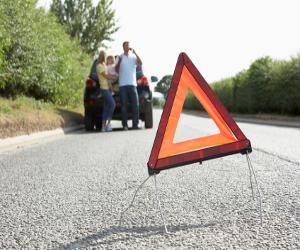 Be prepared
Forward planning won't eliminate the risk of a car breakdown, but it will make a problem less likely. Plus, if your car does breakdown, you'll be prepared to handle it.
1. Regular servicing
A well maintained vehicle is much less likely to end up at the side of the road with the bonnet open. Regular servicing might seem an unwelcome expense, but you're paying for reliability and maximum fuel efficiency. 
2. Pre-journey checklist
Before you set out, check oil, coolant and other fluid levels. Make sure your tyres are properly inflated – and don't forget to check your spare. This is also a good time to check that your car insurance policy covers all drivers and the whole of your journey - this is especially important if travelling outside of the UK.
3. Plan for the unexpected
Prepare for a car breakdown by keeping the following items in your car at all times: a warning triangle, a high-visibility vest, a waterproof coat, walking boots, something to drink, a warm blanket and energy bars. These will make life easier in the event of a breakdown.
4. Stay in touch
Keep your mobile phone charged. Make a note of the breakdown assistance number of your cover provider, and always keep it in the car. Before setting off on a long journey, tell someone where you're going and when you expect to arrive.
In the event of a warning light, a puncture or an unwelcome noise from the engine, don't panic.
In the event of a breakdown
In the event of a warning light, a puncture or an unwelcome noise from the engine, don't panic. Simply carry out the following steps to resolve the situation safely and swiftly.
1. Keep cool
Even for experienced drivers, a sudden vehicle failure, especially in busy traffic, can be stressful. Stay calm, turn on your hazard warning lights and try if possible to continue driving until you find a safe place to pull over on the left.
2. Warning
If you're on a busy road, get out of the vehicle by the passenger door. Make sure you put on your high-visibility vest. If it's safe to do so, set your warning triangle in a safe position at least 45⑴ metres behind your vehicle.
3. Wait outside
It's best to wait outside and away from your car and the carriageway.
4. Call for help
Now you're ready to call for help using your mobile phone.
If you break down on the motorway
Higher speeds and heavy traffic make a motorway breakdown a potentially dangerous situation. Here's how to cope if your car develops a fault between service stations.
1. Hard shoulder 
Try to exit it at the next junction. If you can't, put on your hazard lights and pull over to the far left of the hard shoulder. Point the wheels left⑵. Do not deploy your warning triangle.
2. Exit left
When you get out of the car, do so via the left of the vehicle. Make sure that all passengers do the same. If you're travelling with children, keep them close to you and out of harms way.
3. Stand clear
Wait behind the crash barrier. Only get back in the car if you feel threatened. If you do, make sure you lock all the doors and put on your seatbelt. Don't attempt repairs yourself.
4. Phone for help
Use the emergency telephone at the roadside⑶, not your mobile. The operator can pinpoint your exact location. Roadside markers will show you the direction to the nearest phone.
This Money Matters post aims to be informative and engaging. Though it may include tips and information, it does not constitute advice and should not be used as a basis for any financial decisions. Sainsbury's Bank accepts no responsibility for the opinions and views of external contributors and the content of external websites included within this post. Some links may take you to another Sainsbury's Bank page. All information in this post was correct at date of publication.