Get ready for summer with some great ideas on seating, lighting and tepees.
Has this year's 100th Chelsea Flower Show inspired you to get your garden looking its best? With the weather warming up, a garden is more than just a place to grow flowers, it could be an extension of your living room. Whether your garden style is city sleek, or shabby chic, our tips will help you maximise your space.
Extend your living room outdoors
If you're looking to upgrade from a picnic rug on the lawn to something comfy and cheerful go for brightly striped deck chairs, big squishy cushions or a sun lounger. Choose garden seats which can be packed away indoors when not in use.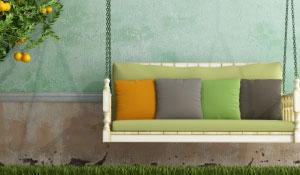 For outdoor dining, choose a good sized hardwood table that can be left outside all year without getting damaged, with cast iron or wood seating to match. If you want to check that the wood comes from an environmentally- friendly source, look out for the FSC logo. Also, remember a parasol; if it gets warm enough, you'll appreciate some shade.
Want a little more luxury? Choose an outdoor all-weather sofa or a garden swing seat. For extra relaxation, sling a hammock between two trees. Add cushions, pick up a good book and get ready to snooze in the sun.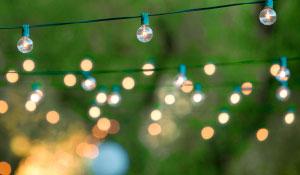 It's not just your home that needs lighting –  your garden does too! Lighting is especially important if you want to extend your outdoor entertaining into the evening. Pick up solar powered lights, hang lanterns or install a patio heater that keeps you warm and lights up your garden at the same time.
If you have bought new furniture this year, don't forget to check that your home insurance policy extends to your garden and its contents. 
Spruce up your space
You may have given your home a proper once over, but remember to spring clean your garden too. Clean and re-varnish decking, paint older garden furniture, clear moss off paths and pull weeds out of the lawn. A bit of hard work can go a long way toward bringing out your garden's best features.
Entertaining for everyone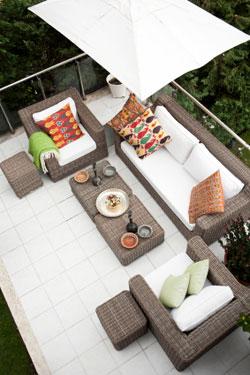 A well-equipped garden can keep children entertained for hours. Spark their imaginations by setting up a toy tepee as their own special hideout. You don't even need to buy a ready-made tepee, as blankets and garden canes work just as well. Up for a craft project? Spoonful has many DIY hideout ideas.
Of course, garden entertaining wouldn't be complete without serving up something delicious from the grill. For outdoor cooking you simply can't beat a barbecue. You can choose between a traditional charcoal barbecue, a gas grill or, for a smaller space, a weather-proof plug-in grill may work best. For great summer recipes, check out the Sainsbury's guide on hosting a classic British garden party.
On warm summer evenings, gardens serve as an extra space to entertain friends and family. Whilst you may not want to enter your garden for an award at the Chelsea Flower Show, a few simple additions can really bring it to life. Simply follow our tips and keep your fingers crossed for sunshine!
This Money Matters post aims to be informative and engaging. Though it may include tips and information, it does not constitute advice and should not be used as a basis for any financial decisions. Sainsbury's Bank accepts no responsibility for the opinions and views of external contributors and the content of external websites included within this post. Some links may take you to another Sainsbury's Bank page. All information in this post was correct at date of publication.