5 easy improvements to add property value
Five easy home improvements to add maximum value to your property
Whether you're looking at selling, or simply want to know how to add value to your home, there are a range of easy ways to improve a property and add maximum value with minimal effort.
2020 was definitely a year of increased time at home for the vast majority of us. And if that experience sparked an interest in home improvement in you, you'd be far from the only one. A recent survey found that around 79% of homeowners feel there is room for improvement in their homes[1]. The same study found the average home improvement spend in the UK (£2,608) increased by 15% from 2019 to 2020[2].
We've taken a good look across which home improvements add the most value to a property. Here are our picks for five of the best ways to add value to your home.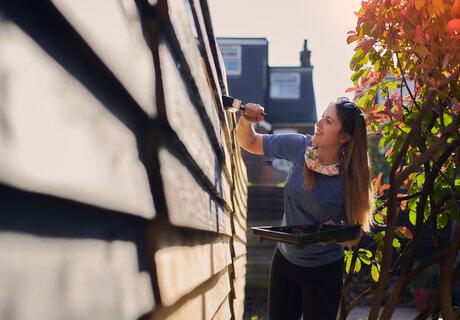 Front of house
As the famous saying goes, we shouldn't always judge a book by its cover. That said, when it comes to getting maximum value from selling a home, sometime first impressions do count for a great deal.
With this in mind, some simple improvements to the front of your house can go a long way. A fresh lick of paint to any fence panels – and fence posts if you have them – can freshen up any front. Equally, a further dash of paint or varnish to a wooden front door creates a positive impression. This is also true of a general clean/polish of any uPVC or metal front door.
A few other tweaks, such as ensuring driveways are weeded, lawns are mown, and guttering is clear of moss, are also simple ways to add value to your home. In fact, adding to the 'kerb appeal' of your property could boost its value by up to 10% by some estimations.
Cosmetic fixes
Ensuring your house looks its absolute best inside is also a great way to put your best foot forward with regards to adding value to your home.
This doesn't have to mean redecorating every room; although if a space really does need a touch of paint, it is usually best to go neutral. It's true that an eye-catching statement wall featuring a popular buzz colour or trendy wallpaper can help bring a room up to date and give it wow factor. Just be careful about the look you choose – not everyone wants to pair orange walls with green curtains!
In general, we're talking more about things that a bit of elbow grease can fix with relative ease, including:
Ensuring any signs of mould around windows and door frames are cleaned.
Fill in any obvious nail holes in the walls, ready for painting if desired.
Fix any leaky pipes or cracked guttering on the exterior of the house.
Ensure any back gate can open and close without sticking; people notice.
Lofty goals
Quite how 'easy' this one will be will depend on the current state of your loft. Still, it doesn't necessarily take a full loft conversion to use the area to add value to your property.
There are a few changes which can massively increase a property's storage capacity and add real benefit. Often, it's simply ensuring the area is cleared of any clutter, easily accessible – usually via a loft ladder, properly lit and safe to walk in.
If you do want to go for a full conversion, this will be more complex and costly, in some cases requiring planning permission , but there are levels of ease even with conversions. For example, a VELUX conversion typically costs around £21-23,000, while a more complex Dormer conversion usually starts from £31,000[3].
In terms of which home improvements add the most value, it's worth knowing that a new bedroom via a loft conversion can add significant value to a property. Experts suggest it may even reach up to 10-15% additional value depending on the total value of your property[4].
Gardener's world
For those properties with a garden, ensuring it's well maintained offers a lot of enjoyment while you live there. Even better, it's also another of the easy ways to add value to your property should you decide to put it on the market.
Thankfully, you don't have to be an expert on the level of Monty Don to improve the look of your garden. There are actually a number of simple ways to add value to your home via your garden, such as:
Improve the look of your lawn with some grass seed and lawn feed
Cut back any overgrown trees or shrubs
Use a pressure washer on your paving, or find an easy alternative[5]
Add a touch of colour to the garden with a few small bedding plants
Bathroom gleam
When considering cheap home improvements that add value, the bathroom is often overlooked. A lot of people have the idea that you either go for a costly bathroom replacement, or nothing.
If that's the case, you're missing a trick. A few simple touches to a bathroom go as far as any other improvements in terms of creating a positive perception of your home.
Improvements such as properly cleaned bathroom tiles, a new toilet seat and soft lighting make the room feel like a clean, safe, and stylish place. So, without a major overhaul, this goes a surprisingly long way towards people envisioning themselves enjoying living in the property.
We hope that this whistle-stop tour of how to add value to your home has been useful. We also provide a few specific estimates of how different home improvements can add value to your property. You can make use of our home renovation calculator to find out more on this.
Equally, if you're looking to continue living in your home as you add value, our home insurance offers can help keep you covered. And if you're after ways to finance a particular home improvement, take a look at our personal loan and credit card options to find the right fit.
This Money Matters post aims to be informative and engaging. Though it may include tips and information, it does not constitute advice and should not be used as a basis for any financial decisions. Sainsbury's Bank accepts no responsibility for the opinions and views of external contributors and the content of external websites included within this post. Some links may take you to another Sainsbury's Bank page. All information in this post was correct at date of publication.