How can you keep your garden thriving and save our most precious resource in a time of drought? Try these tips from Money Matters contributor Simone Kane...
When it's hot and dry, gardeners use up to two thirds of Britain's domestic water.
When it's hot and dry, gardeners use up to two thirds of Britain's domestic water – so it's no wonder water companies rely on the green-fingered to do their bit. Follow these top tips to save water and maintain a healthy garden...
1 If you haven't already, fit a butt to collect rainwater – it takes under an hour to do and is fairly cheap too, starting from about £20 for a compact model.
2 Set up a 'grey' water system to capture and recycle wastewater from baths, showers and wash basins. The Environment Agency has an information guide on 'grey' water.
3 Reduce the amount of water lost to evaporation by watering your garden at cooler times, like early morning or evening.
4 Fit a trigger nozzle to your hose to control the flow. Avoid sprinklers – they can use as much water in an hour as a family of four consumes in two days. If there's a hosepipe ban, use a watering can with a rose attachment.
5 If you don't cut grass too short, it will quickly recover after a few days of rain.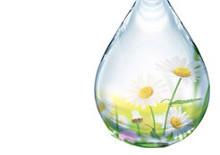 6 Don't overdo it: water plants and shrubs too much and the roots remain shallow, which weakens the plant. Rule of thumb? Wait until plants wilt, then water.
7 Placing containers on trays allows reabsorption through the roots when needed.
8 Hanging baskets look lovely, but they're a thirsty option. Limit their use or mix water-storing crystals into the soil to cut down on the amount of watering.
9 Make sure that watering benefits plants – and not weeds – by regularly hoeing.
10 Prepare soil well: in late winter, spread wood chips, bark or gravel, which help suppress weeds and limit water evaporation.
Design for drought
• Revamp your planting scheme and help to conserve water by opting for hardy plants such as lavender and rosemary bushes, olive trees, Abelia shrubs (with fragrant purple-pink flowers) and Ceanothus (Californian lilac).
• A drought-resistant garden needn't be dull. Get inspired by the colourful dry garden at RHS Hyde Hall in Essex, which hasn't been watered for a decade.
 This post was written by Money Matters contributor Simone Kane.
This Money Matters post aims to be informative and engaging. Though it may include tips and information, it does not constitute advice and should not be used as a basis for any financial decisions. Sainsbury's Bank accepts no responsibility for the opinions and views of external contributors and the content of external websites included within this post. Some links may take you to another Sainsbury's Bank page. All information in this post was correct at date of publication.